Cellist Steven Isserlis on Why We Should Never Stop Questioning Music
Steven Isserlis talks us through his fundamental belief of asking questions and staying open to new ideas
How does one continue to develop creative musicianship while staying motivated?
Cellist Steven Isserlis talks us through how to learn and improve musicianship by staying inquisitive.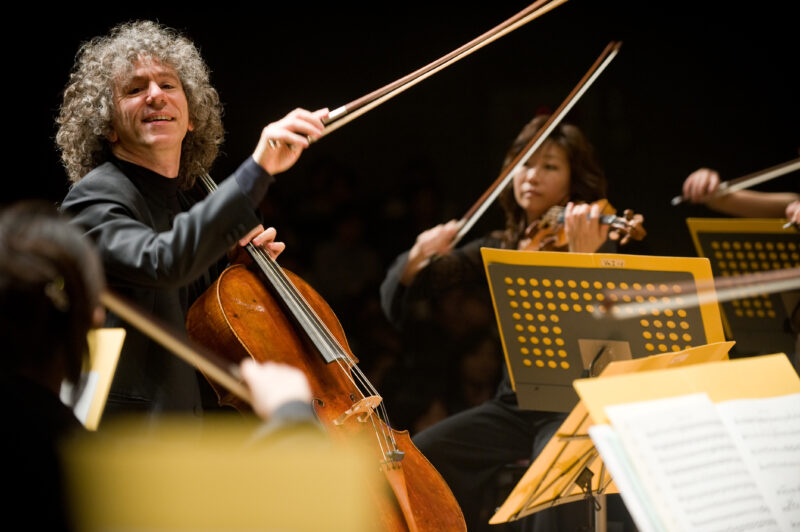 The Best Way to Learn and Stay Motivated in Music is to...
Never stop asking questions…
I suppose that most people reading this will at some time or another have had the experience of trying to explain something to an annoying, if intelligent, child who, no matter how clear one makes one's answers, keeps repeating 'Why?' – until one reaches a point beyond explanations. It can be frustrating; but actually, we musicians have to be that annoying child for our entire musical lives.
Having recently finished my annual bout of teaching/torturing in Cornwall, I did find that little word 'why', with its poor neglected h in the middle (why don't we hear it?), crossing my lips upon numerous occasions. We have to apply it to each and every aspect of our playing: to rubato, vibrato, breathing, pedaling, etc. Everything we do must have a reason, a purpose. On the face of it, that could sound like a recipe for over-rationalised interpretations. In fact, however, it's just the opposite; it's the only way to keep our performances fresh. It is almost impossible to keep superfluous elements out of our interpretations; there will always be rubati, vibrato, etc which we don't really intend - or feel - that creep into our music-making, either because we've heard others do them, or because they're convenient for our fingers, or perhaps because we think they sound impressive. By constantly questioning ourselves about all these aspects, deciding whether they truly represent our view of the music, we are making sure that the performances we produce come straight from our hearts and minds, not from those of others (or from our fingers acting as independent agents).
Some might think that they are free of such problems – but no-one is; these habits creep in insidiously, without our necessarily being aware of them. The only way to avoid them, perhaps, would be never to hear music played or sung by anyone else, which would be a huge loss (and might not work anyway). Besides, endless self-questioning is a healthy, even a necessary, aspect of being a musician. Of course, there are musicians – famous ones, even – who have stopped questioning or doubting themselves; but that eventually produces sterility in their performances. They merely deliver the same pre-packaged interpretation again and again – with predictable results.
I find that the best way to keep my playing as natural as I can is to listen to the way I play a phrase, and to ask myself whether that is really how I hear that phrase in my head when I look at the score.
All too often, I find that I am doing a rubato of convenience, or conveying through my vibrato or articulation an emotional message that is not really in the music; or maybe – a particular danger - I am connecting notes that do not belong together harmonically or melodically. (Those careless connections can so easily slip in unnoticed. When I recorded the Bach suites, I begged the producer to keep an extra ear – luckily he had three – out for 'false rubati'. I hope that not too many of them remained within the end result.)
I cannot think of any music that should be played in any way other than the way one would sing or hum it as one walks along. It is a common insecurity to feel that if one plays it in that unvarnished manner, one is not 'doing' enough, and therefore the performance will not be interesting or clever (or different) enough. I think that's a major mistake; any music worth playing is beautiful and meaningful enough in itself not to need cosmetics. All it needs is to have its essence brought out and communicated; and for that, one needs clear-sighted and constant questioning, both about the music itself and about our reproduction of it.
Here endeth today's rant.
-Steven
Do you have an idea for a blog or news tip? Simply email: [email protected]
Internationally renowned British cellist Steven Isserlis enjoys a diverse career as a soloist, chamber musician, educator, author, and broadcaster. He appears as soloist with the world's leading orchestras and is an active chamber musician for many distinguished festivals and venues, including Wigmore Hall, 92nd Street Y, and the Salzburg Festival. He plays on the Marquis de Corberon (Nelsova) Stradivarius of 1726, kindly loaned by the Royal Academy of Music.
Blog reproduced with permissions from Steven Isserlis' social channels.