Francesca Dego on Explorations Beyond the Standard Violin Repertoire
Violinist Francesca Dego discusses why she feels young violinists should expand repertoire selections beyond the standard classic works
Thinking of recital repertoire ideas? How about looking beyond the standard canon of string repertoire works for a lesser-known work or an underperformed composition? As recital programs become more creative and adventurous with more lesser-known works and composers programmed, it shows the importance of having a diversified repertoire scope as musicians today.
American-Italian violin virtuoso Francesca Dego discusses why young violinists should be creative and brave to go beyond the standard repertoire - and what one can learn from lesser-known works.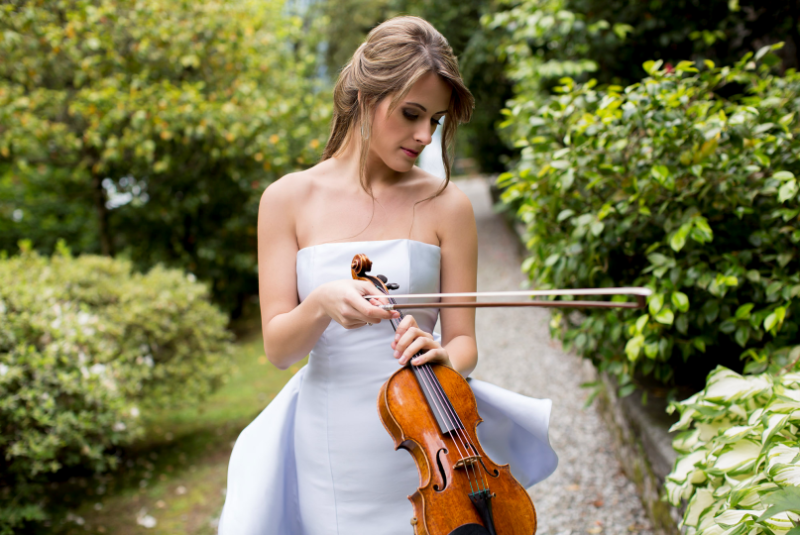 Francesca Dego on the Importance of Learning Repertoire Outside of the Standard Canon
Choosing repertoire is actively deciding what the audience gets to hear, so I've always considered it a big responsibility. I don't agree with the commonplace myth that one should wait until 40 to play the Beethoven and Brahms Concerti. In my opinion, to debut such masterpieces at that point would possibly mean being overwhelmed by one's own expectations. So I certainly don't see the fact of looking into rarely performed works as an alternative to standard repertoire, in fact quite the opposite.
I make sure I keep all the "big" concertos warm season after season but also learn and debut a couple of new ones every year.
In today's market I think it's crucial for a young soloist to find the right balance between a comprehensive repertoire and some less obvious gems that reflect his/her taste, cultural background and best musical qualities.
I try to focus on this when adding to my repertoire wish lists but also, and much more realistically, I consider what orchestras and conductors may be interested in performing. It's not enough to choose pieces because nobody else plays them. I have a lot of fun coming up with original combinations for recital programmes, where I'm given more freedom of choice, but it's hard to persuade anyone to take the risk of programming a lesser-known concerto so it's important to be very passionate about it.
With Wolf-Ferrari's violin concerto it's almost like the piece found me. In 2013 I was approached by a Russian orchestra interested in examining in-depth the 20th-century Italian symphonic repertoire. They asked me to perform a lesser-known work and during the following weeks I immersed myself in research of brilliant Italian composers, often disregarded for all the wrong reasons, including political affiliations, contemporary musical taste and downright bad luck. This process was fascinating and I found myself discovering music by composers I'd only ever studied in history of music classes and didn't know much about, let alone having ever listened to them.
It would have been quite difficult to judge the Wolf-Ferrari without the help of Casa Musicale Sonzogno, the composer's publisher for most of his later years, who provided me immediately with the part and copies of the score.
When learning standard repertoire as a student or young professional, one is confronted with overwhelming interpretation and recording history for a given piece. But having to work from a manuscript or reading an unknown score, analyzing and "hearing" it in your head before you pick up your instrument helps enormously in learning how to create an interpretation based solely on your own intuition, musical knowledge and the information in front of you. Curiosity, reading and listening to as much music as possible also leads to new ideas and provides endless sources of inspiration.
Then you just start at the beginning and tackle instrumental and technical obstacles as they arise. The mechanical work needed when digesting new repertoire is part of a deeper process that involves delving into phrasing and tone production, thus effectively starting to build an interpretation.
-Francesca
Do you have an idea for a blog or news tip? Simply email: [email protected]
A graduate of the Milan's G Verdi Conservatory, Cremona Stauffer Academy, the Siena Chigiana Academy and London's Royal College of Music, where she studied with Daniele Gay, Salvatore Accardo and Itzhak Rashkovsky, American-Italian violinist Francesca Dego in 2008 became the first Italian female prizewinner at the Paganini Violin Concerto since 1961.