Grigory Kalinovsky Discusses His New App for Remote Lessons
The violinist and pedagogue walks us through his application that provides studio-quality sound for remote music lessons
In a world where online lessons are becoming more regular, music teachers have had to find creative solutions to optimize the experience. A reoccurring struggle during a remote lesson is the sound quality, making it is easy to miss the subtle, yet important, details over a video call.
The Solo App, a new platform for high-quality online music lessons, was created to solve this issue. The Violin Channel had a chance to discuss the inspiration behind the project and its unique features with creator Grigory Kalinovsky.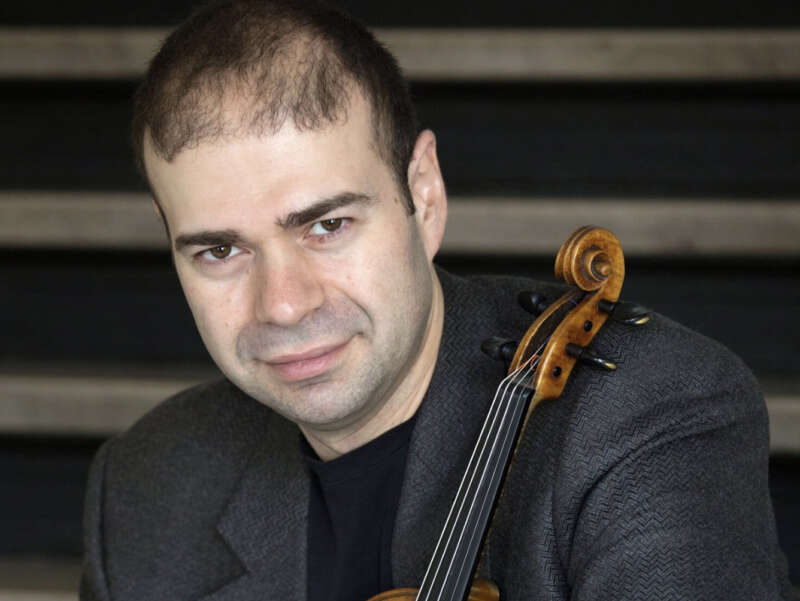 Grigory Kalinovsky Talks Us Through the SoloApp
Backstory:
I have been involved with online music lessons since 1993. My teacher, Pinchas Zukerman, was actively advocating for the development of the technology necessary for conducting live online music lessons with sound quality high enough for classical music students. In fact, I was the first "guinea pig" to ever have an online lesson – playing scales for Mr. Zukerman from a Polycom studio in Westchester, NY, during one of the first tests of the emerging technology.
In subsequent years, I had regular remote lessons with Mr. Zukerman while studying with him and Patinka Kopec at the Manhattan School of Music, and once I graduated and joined the faculty at MSM, I also gave frequent masterclasses over the system. Upon my move to Indiana University Jacobs School of Music in 2013, besides successfully advocating for the development of our own high-tech remote studio, which is now in high demand by our faculty, I also started exploring different desktop options to be able to reach students in different parts of the world — without relying on expensive stand-alone equipment and specialized studios. As I explored different solutions available at the time, one thing became clear to me – the main reason most existing platforms are poorly suited for classical music lessons is that they are all built around the idea of instantaneous communication to maximize the feeling of being in the same room with the other meeting members. In other words, they prioritize the immediacy of communication over stability and quality of sound. Gradually, certain ideas crystalized in my head about what techniques successful online teaching platforms should employ to maximize sound transmission quality, but in pre-pandemic times I had a hard time finding anyone interested in pursuing the idea with me.
During my live masterclass visits to my native Saint-Petersburg, Russia, I met Viacheslav Zilberbord, a concert producer and entrepreneur, and the founding director of the Music Education Support Foundation. During these masterclasses, I started working with his teenage daughter Anna – a very talented young violinist – and our relationship quickly progressed from infrequent meetings during my masterclass trips to regular online lessons.
When the pandemic hit, and the classical music world was suddenly forced to move most educational activities online with existing technologies sourly lacking in sound quality especially, I shared my ideas for the improvement of online lesson experience with Mr. Zilberbord. He consulted with some IT specialists who confirmed that these ideas had merit, and with his business connections and enthusiasm for classical music education, Mr. Zilberbord was able to put together a working group, headed by Alexander Grishchenkov, dedicated to developing the Solo App which after months of testing and tweaking we are now presenting to our colleagues around the world.
Unique Features
From the moment I started testing different desktop platforms for online violin lessons, I had a burning question – "why shouldn't it be possible to get at least the same sound quality during an online lesson as one gets live-streaming their performance on a smartphone?" The two main reasons, I realized, were audio processing done during live video-conferencing calls (namely echo and noise cancelation, both of which are great for speech, but severely degrade the quality of music audio) and prioritizing immediacy of communication experience over the consistently sustained quality of audio signal. 
Therefore, in our Solo App we created two main communication modes:
1. "Interactive," which works much like any other video-conferencing app, except that it still prioritizes audio signal over video, so that if the internet connection starts degrading, the app sacrifices video quality before allowing the audio signal to degrade. The app also never allows the speed of the sound to change the way it happens with other platforms, when the sound starts "chasing" the video.
2. "Solo" – whereby clicking "Listen" or "Play" buttons (also activated through arrow keys on a keyboard) mutes the "listening" side, turns off echo cancellation entirely, and activates deliberate minimal latency (or "buffering") to allow the transmitted signal to maintain highest possible quality when the connection speed is not optimal. There is also a "Turbo" mode, which increases latency to a couple of seconds and can be turned on when the connection is more unstable.
The app also has a recording function on either the teacher's or the student's computer to record the lessons (the teacher can block recording), and lesson "rooms" created by the teacher to which the students can be invited to connect. At the moment, the app allows only one-to-one connection, but we plan to add multi-user connections in future releases to allow for a public masterclass lesson format.
I have been using the app extensively for several months now, and I am really impressed and proud of how well it has been working, how much it has improved the lesson experience for me and my students, and how much more confident I feel that I am catching the nuances I need to hear in the students' playing to help them grow to the best of my ability. Recently, because of inclement weather, I was forced to move some of my university lessons online for a day without the students having time to prepare with external microphones and ethernet cable connections (things I normally insist on for online lessons to maximize sound quality). To my immense satisfaction, I realized that my original goal behind the app's development has been realized – even with internal microphones and spotty Wi-Fi connection from dorm rooms (things that in my experience would normally lead to a nearly useless lesson), the Solo App made the violin sound come through clearly, without the expected usual distortions in the upper register or "wateriness" in the lower one, and even when the connection speed dropped so low that certain distortions were unavoidable, it was very clear which ones were coming from the playing itself and which were the connection artifacts.
At the moment, Solo App is in a public beta stage – users can sign up for free and download either Mac or PC versions from the website (www.playsolo.app). We would like as many of our colleagues around the world as possible to start using it for their online teaching, testing its features, and providing feedback. We look forward to hearing from them!
-Grigory Kalinovsky