Hannah Reimann Discusses Narrow Piano Keys & New Concert Series
Promoting equity, injury prevention, and joyous music making, the International Stretto Piano Festival will feature artists including composer David Amram and pianist Christopher O'Riley
The International Stretto Piano Festival and Stretto Piano Concerts are unique concert phenomena featuring international pianists playing exclusively on Stretto Pianos, which have narrower keys than the conventional piano.
Conceived by the New York City-based pianist, educator, and singer Hannah Reimann, the upcoming third annual International Stretto Piano Festival is a celebration of the Stretto Piano and its mission to make piano playing more equitable for players with smaller hands.
From July 15 to 23, 2023, audiences and critics are invited to experience ticketed, in-person at Engelman Recital Hall in NYC and free, online concerts from around the globe!
We caught up with the Founder and Artistic Director of the International Stretto Piano Festival, Hannah Reimann, to learn more about narrow piano keys and the upcoming concerts.
What is a Stretto piano? 
A Stretto piano is any kind of musical keyboard instrument with keys that are narrower than the standardized size of conventional piano keys. As it was defined in the 20th century, the conventional keyboard has a 6.5-inch octave. Many Stretto pianos have 5.5 or 6.0-inch octaves, or anywhere in between.
My team and I wanted to use a word that could quickly communicate if a piano has narrower keys. We decided on stretto, which means narrow in Italian.
Who is the Stretto piano most suited for?
According to some statistics that my colleagues have shared with me, 75% of pianists are unsatisfied with the size of piano keys and want them to be a bit narrower. While the Stretto pianos are not necessarily for people with really big Rachmaninoff-sized hands, it is best suited for those with medium and small-size hands. Statistically, women have naturally smaller hands, but the Stretto piano can help many men as well. Additionally, the smaller keys are great for children!
What are the benefits of playing an instrument like this?  
I'll tell you my personal reflections first. What I discovered while playing the Stretto piano, was that I saved a tremendous amount of time. In the 21st century, time is money — everyone's always trying to make a task easier or shorter. And when practicing on a Stretto piano, I do just that. I've also found that there's no physical strain on my arms, hands, or fingers.
Importantly, the Stretto piano has proven to help prevent playing-related injuries in pianists and help others recover from injuries. Pianists, most oftentimes female ones, that have to over-stretch and overwork their hand and forearm muscles to play large stretches and chords, can find much-needed relief on a Stretto piano.
It makes more difficult repertoire — pieces with repeated octaves and the like — easier and more comfortable to play.
Much like many other instruments that come in different sizes depending on the player's body, pianists can have that same opportunity and choice with a Stretto piano.
How hard is it to transition from a conventional to a Stretto piano?
It's not difficult at all. For anyone who's ever played a fortepiano or a harpsichord, most pianists find it pretty easy to shift back and forth between those instruments. One of my teachers was German Diez, who was Claudio Arrau's assistant. He would always tell me "it's easy to change to what is more natural and comfortable." The Stretto keys fit right into this theory and practice.
Why do you think the piano industry has been not as accepting of these instruments?
That's the most important question, right? At first, I thought it was merely due to a harsh prejudice against small people like women, small men, and children! However, after a lifetime of working on this project, it's clear that it also has to do with standardization, industrialization, and the way business is accomplished. Pianos are old-world objects that are due to have new-world improvements, but the industry didn't need to make those improvements to prosper  — they serve a luxury market that will always purchase luxury grand pianos at high prices. Disklavier and Spirio pianos were easier to market than Stretto pianos in the eyes of top manufacturers so they are counting on us to help them progress with Stretto pianos and to indicate to them what needs to be done by our own actions.
Pianos with various key widths have existed since keyboard instruments were first invented centuries ago. In the mid-to-late 19th century, however, cast iron piano frames were invented in order to keep up with the demands of larger performance halls. This innovation caused a significant increase of the octave span. Famous, large-handed male virtuosos, like Franz Liszt, started touring at that time and played the bigger instruments with ease. Prominent manufacturers standardized these powerful pianos in the late nineteenth century, mass-producing the conventional size we have today.
This dinosaur-like instrument was not able to shift into the 21st century without the encouragement of consumers. Similar to the electric car, when we demanded to use less gas, pianists are now wanting to play something that is more efficient. The first electric car was invented in 1890 and it's taken more than a century for them to become mainstream for more than one reason as we all know. 
Another reason is about money and convenience for manufacturers. At that time in history, it was much easier and more practical for a large instrument like the piano to be mass-produced, marketed, and sold in one size. It's very different than making guitars or violins, all of which come in different sizes to suit the player and have far fewer parts, and a shorter assembly line.
I went to a lecture in the 1990s about the history of the piano, and a lecturer said that the modern-day piano has more similarities with the refrigerator than a guitar. It's something that's built on an assembly line, it has thousands of parts, and it helps if this process is standardized. It even has a brand name displayed in large letters for all to see. That's the long-winded answer!
What is the history of the narrow key? 
I worked with Stewart Pollens, a curator at the Metropolitan Museum in the 1990s so that I could get a snapshot of that very topic. I asked the curator at the time to give me measurements of keyboards from 1540 to the early 1900s. I found that there were many, many different sizes of keys — partly because the size of the inch differed from country to country. For example, the Italian inch was smaller than the Norwegian inch. The inch was defined by had to do with a person's body size, I believe the size of a portion of their thumbs, which varied from region to region. The metric system changed that.
Again, because of standardization, a "one size fits all" model occurred. Additionally, most of the virtuosos of the early 20th century were large, white men. Today, the demographic of piano players on this earth has changed to include a lot more people and hand sizes. The largest demographic of piano players in the world are Chinese women and kids — they could use a size that fits them, too.
To that end, the work we do with Stretto pianos is one of equity and inclusion.
Where can people try these instruments out? 
There are people on five continents who now have these Stretto pianos either in their homes, concert halls, schools, studios, etc. There's a list of where they're located on the P A S K website. That is an acronym for Pianists for Alternatively Sized Keyboards created by Rhonda Boyle, Dr. Carol Leone, and Erica Booker. These three women have ferociously helped this movement mature and have provided a wealth of information. 
I also own a Stretto piano here in New York City, and right now, we are seeking the ideal space to keep it long-term, where anybody can come, play it and see how it feels!
Where can they purchase a Stretto piano? Do you have to buy an entirely new piano?
There are a few options when purchasing a Stretto piano, with hopefully more to come. You do not have to purchase an entirely new piano. Right now, most people have received Stretto keyboards through the DS Keyboards and The DS Foundation, in Titusville, Pennsylvania. The Foundation provides educational institutions with loans of Stretto keyboards that can be retrofitted into existing pianos on loan for a year. The school then has the option to purchase the keyboard. Having served this community for more than 25 years, there's a growing demand for Stretto pianos all over the world - they have sold or provided Stretto keys for pianists on five continents to retrofit their pianos independently. 
You can also custom order an upright piano with narrow keys from Hailun Pianos, Petrof Piano and Steingraeber Piano, while an American company led by Kathy Strauch and Linda Gould developed the NK5.5, the first narrow key (5.5 inch octave) 88-key digital keyboard (this company now has a waitlist). A full list of manufacturers can be found here.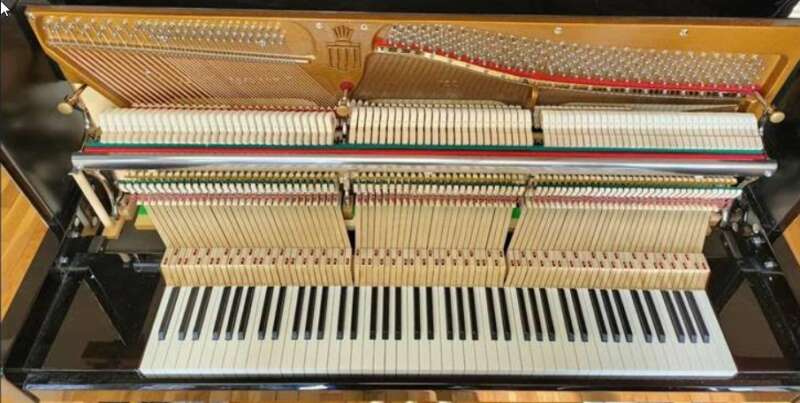 What would you say to the major piano manufacturers that might be hesitant to start making and selling pianos with narrower keys?
Come to our festival and experience the magic. The progress has been made and the time is now. We're a movement of people actively using these pianos and we know that this is a viable and inclusive option. We're looking forward to their participation as soon as possible.
Why, do you think, has there been a lack of knowledge of these instruments?
I think that it's been difficult for the major manufacturers to wrap their heads around this. It seems to me that they want to be 100% sure that this is something they want to stand by and they want to see proof - they have asked me to do the work for 25 years to show progress, and I have followed through. The work we do at Stretto Piano Concerts and Stretto Piano Festival is showing bona fide proof of this.
Additionally, there is a lack of education at every level, from childhood lessons to the college conservatory. Most pianists go through their entire education or even lives not knowing these narrow keys exist. The alternative to conventional-sized piano keys has been suppressed for more than 100 years.
Have any famous pianists used narrower keys?
It started with Josef Hoffmann. He was my idol. He was a friend and a colleague of Rachmaninoff. He wrote very difficult music and worked with the Steinway piano company to get several pianos made for him. He was a real torchbearer for all of us.
After him, there was a man named Yoshinao Nakada in Japan who was a composer and a pianist. He really made this narrow key part of his life's work too — he inspired Kawai and Yamaha to offer these pianos for sale in their showrooms. I played one when I was in Japan in the late 1990s when few Americans knew these pianos even existed. Even the people at Yamaha in America didn't know about it and I had to show them the catalogs (this was pre-internet).
And there is Daniel Barenboim! Many people now know that he played on custom, narrower keys, but that was quite "hush-hush" when he first had his brand new piano built by Steinway & Sons in Hamburg.
It would be fair to mention Canadian Christopher Donison who rebuilt his piano in the mid to late 20th century and is one of the two original creators of DS Keyboards together with David Steinbuhler. Frank Mazurco who was president of Steinway & Sons in the 1900s, told me about Chris, who is a professional musician.
What is the aim of and source of inspiration for Stretto Piano Concerts?
It's simple: We offer pianists a choice of piano key size in a New York City concert hall and plan to do this in venues all over the world. We aspire to do this with partners or on our own. They won't know what narrower keys feel like or if they prefer them until they try a Stretto piano themselves — there will be opportunities for the audience to play Stretto pianos in the concert halls after performances are over or by appointment at other times. This is our plan.
The mission of Stretto Piano Concerts is to create equality for all pianists and for all hand sizes to feel comfortable playing the piano. It's really almost more about equity than it is about music, but the result is making beautiful music.
You're hosting the third annual International Stretto Piano Festival this coming July 2023 — both online and in NYC. What are you most looking forward to? 
We look forward to welcoming NYC audiences to Engelman Recital Hall for the ticketed, in-person concerts this year. We're excited to have world-renowned composer David Amram perform as our closing, in-person performance and serve on our Board of Advisors. Christopher O'Riley will join from California to do his "Virtually-tempered Clavier" program, which celebrates the 300th anniversary of J.S. Bach's Well-Tempered Clavier. Classical virtuosi such as Ran Reng, Paul Sheftel, Tina Chong, and Roger Lord, known as the Piano Prince of China, will also join us in New York City. Additionally, Steve Sandberg, the composer of the music for Dora the Explorer, will perform with Luiz Simas, a Brazilian pianist and songwriter, in a multi-genre world music concert.
We are also thrilled to present concerts from Stretto pianos around the globe via online concerts. These pre-recorded concerts will be available to watch free of charge, and we encourage audiences to donate generously to these Stretto artists. Pianists such as Carol Leone, Jocelyn Ho, Kyu Butler, Eliana Yi, and David Soo are among the many talented artists performing for us.
For a full artist line-up, to buy tickets, and to watch the online concerts, click here.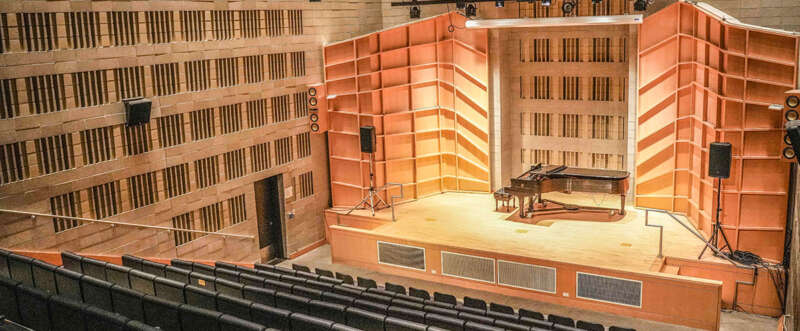 What do you hope listeners will take away with them after seeing these performances? 
I would like them to be interested in trying Stretto pianos. I'd like their curiosity to be piqued and for them to see that this is not a joke. This is not a toy piano, this is not something that's "less than" or "inferior to." I want them to feel its empowerment and experience it for themselves, wherever they can, all over the world. If they are interested in joining our community and trying a Stretto piano, no matter their location, we will do our best to connect them with our community.
What are your long-term goals for this movement?
I want to have Stretto piano concert halls in every major city so that somebody like my assistant, Julia, or our advisor, Carol Leone, or myself, can tour around the world and know that they can play a piano with narrow keys wherever they want to go.
It doesn't have to be a 10,000-seat hall at first, and we can grow over time. Performers will have an opportunity to perform on a piano that's comfortable for them.
Where can we find more information about these Stretto Piano Concerts and Stretto pianos in general?
Please visit our website, www.strettopianoconcerts.org to buy tickets to this summer's NYC concerts and tune in for the free online concerts. Also, you can learn more about the Stretto piano and its growing community at Pianists for Alternatively Sized Keyboards.
Additionally, we have started a fundraising campaign to help with the costs of this year's festival and our long-term goal of creating a dedicated concert hall and educational space in New York City where we will host Stretto Piano Concerts — the first phenomenon of its kind to present performances, lessons, workshops, and groundbreaking new instruments with narrower-than-conventional keys. Help us give people a choice of piano key size.