Dutch Violinist Herman Krebbers – In Memoriam (1923-2018)
Dutch violin virtuoso Rudolf Koelman pays tribute to his late-teacher Mr Herman Krebbers
The Violin Channel recently caught up with Dutch violin virtuoso Rudolf Koelman, longtime student and friend of former Royal Concertgebouw Orchestra Concertmaster and violin pedagogue, Mr. Herman Krebbers who passed away, aged 94. 
In a VC blog, Rudolf pays tribute to his late-teacher and mentor:
Take any Dutch violinist of any generation at random and somewhere in his or her biography the name Herman Krebbers pops up.
Herman Krebbers is in my opinion just as important for the Dutch violin world as the Statue of Liberty is for NY. 
I came for my first lessons with Herman Krebbers 47 years ago at age 11!
The extraordinary qualities he had as a teacher were his immense presence and the enormous repertoire and musical knowledge that gave him such authority.
Krebbers's daily routine at that time was like this: morning rehearsals with the Royal Concertgebouw Orchestra (as first Concertmaster), afternoon teaching, evening concerts - either with the Concertgebouw Orchestra or as a soloist, with his trio (The Guarnieri Trio) or in recital and that sometimes far out in the country!
He was a strict but extremely charming teacher with an excellent sense of humor, he knew and played the entire violin repertoire by heart and could show you fantastic fingerings and bowings instantly.
You could come to the lesson with random sonatas , concertos, virtuosic pieces, yes, even chamber music and orchestral excerpts would be in for the full treatment in room No. 7 at the "Amsterdam's Muzieklyceum".
And when the lady of the cafeteria downstairs on the stroke of 13 o'clock sharp entered the room with the peeled apples and a cup of tea (his lunch!), his attention was briefly diverted from my violinistic "try-to-keep-the-head-above-water-stress" and I could glance unnoticed at the music stand for an extra 10 seconds to better prepare myself for the never quite sufficient studied next difficult passage.
However talented of a student you might be, the unpleasant feeling crawled up to you sooner or later that, with a man such as Herman Krebbers in front of you, there is someone listening to you who knows and plays this piece you are playing much better than you! This huge pressure (which could be compared with a perfect mirror) was for many very stimulating for the development of a healthy self-criticism and consequently also for one's own violin playing.
Sometimes he sends me a postcard when he was on tour and once he brought me some kind of version of a violin with one string from Indonesia (and even demonstrated it for me!) I still use a beautiful old wooden metronome he gave me on my 15th birthday. A rectangular violin case I received from him (at that time the ultimate thing to own), and even once he gave me 300 guilders out of his snake leather wallet … a small contribution for buying a new bow, he said! But of course the most valuable thing he gave me for life was his great philosophy and advice not only towards music, violin playing and teaching, but also about people and life in general.
Sometimes I was his last student of the teaching day and he would give me a lift to the train station (I lived a bit out of town). Then I would be allowed to sit in this luxury American battleship of a car that smelled like a mix of leather and perfume - sitting right next to one of world's best violin players! I would be feeling on top of the world and be filled with pride, and I'd look at the imposing dashboard and observe his perfectly fitting lambskin gloves, the fancy Omega watch and the brown suede Italian loafers which he wore strictly for the elegant manipulation of the acceleration and brake pedals. I knew then that one day I wanted to become someone just like him.
Twenty three years later when I also became Concertmaster of the Royal Concertgebouw Orchestra, Herman Krebbers congratulated me in person and asked me: "And? What kind of car does the gentleman drive these days?"
-Rudolf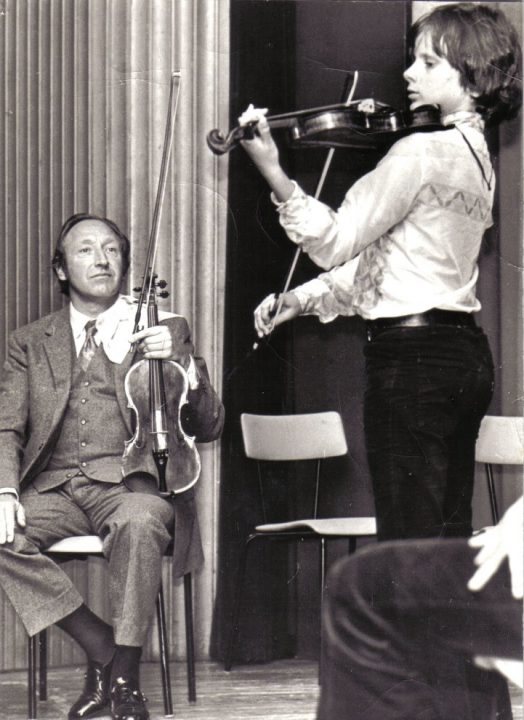 HERMAN KREBBERS & RUDOLF KOELMAN, 1972
VIKTOR LIBERMAN, ALEXANDER KERR, HERMAN KREBBERS, THEO OLOF, RUDOLF KOELMAN & JAAP VAN ZWEDEN, 1996