Hilary Hahn — Practice, Performing, and Staying True to Your Artistic Instincts
Coming off her win as Musical America's Artist of the Year, Hilary Hahn sat down with The Violin Channel to look back on her exciting career
Three-time Grammy Award-winning violinist Hilary Hahn is currently the Chicago Symphony Orchestra's Artist-in-Residence and the Virtual Artist-in-Residence with the Philharmonic Society of Orange County.
A prolific performer and recording artist, she has released 21 feature albums on Decca, Deutsche Grammophon, and Sony have all opened in the top ten of the Billboard charts.
Committed to sharing her experiences with a global community, Her Instagram-based practice initiative, #100daysofpractice, has built a global community around a process that is often isolating.
The Violin Channel sat down with Hilary Hahn to discuss her recent Musical America honor, her practice philosophy, what new projects she is excited about, and more.
How have you managed to keep your motivation and connection with your audiences during Covid-19 and the past few seasons?
Covid is still happening and for a lot of people, it's still on their minds. When Covid hit, however, I was an audience member. I wasn't performing for at least the first six months. For me, a lot of the streaming concerts and events  I got to watch were super important for keeping me connected.
What do you think is the role of the audience member in a concert — either in-person or online?
I've always believed that the audience is a part of the interpretation. The piece doesn't have sound until someone is playing it, but it doesn't have all the different individual meanings until an audience hears it. In other words, it doesn't exist in a vacuum.
It's really beautiful to have access to the audience's feelings and have the responsibility to take care of them. I think one thing music can do is help you process emotions that you might not process on your own. It may even help redefine what the feeling is and move forward to the next thing. It's definitely an emotional connection.
As opposed to at the beginning of your career, what do you feel it takes to have a successful music career today?
I think that something that is not often pointed out while people are studying is the personality types and lifestyles that are needed.
The past couple of years were different in that the colleagues that didn't ever stop, were forced to stop and become a lot more mellow. They learned how to just be, and then brought that mellow wisdom back to the stage. Other people went through some tough things and they bring that depth of emotion to the stage.
Aside from that though, there are definitely personality traits that blend better with certain careers than others. For example, some people really like a steady community, a routine, etc. They want to be somewhat more grounded in a location or a certain group of family or friends. That's not something that a solo life necessarily provides. However, there are careers in which you can really build a community around music — such as orchestra gigs, chamber groups, teaching, or administration, for example.
But other people like constant change, space, and time alone to process things and daydream. They also might like to have a lot of friends around the world that they see. That latter personality type is me, so I'm really well suited to this lifestyle.
You are so often traveling for performances, how do you balance this with your personal life? How does Hilary Hahn relax?
It's a little bit all mixed together. The overarching theme of the downtime is to follow a whim. So if it's that I want to watch reality tv, or if I'm on a kick where I'm taking walks in every city I go to, or I'm buried in a podcast or reading a book — I have these little arcs of hobbies.
Since everything else is long-term and big-scale, it's nice to just have a fleeting idea and go with it for a day or two, or a week, or a month.
What was the inspiration behind the #100daysofpractice?
A few years ago, it was actually a visual art project on Instagram that I happened to observe. This illustrator was taking part in it and I was like, 'Oh, this seems really interesting.'
I love visual art and I love the idea, but I didn't think I could draw for a hundred days. So I wondered how I could apply it to music?
The project suggested that you make up your own hashtag and that it be about the process and not the final result. With visual art on Instagram, you always see the final result and it leads to more intense self-criticism.
Similarly, my results are always out there, so I didn't feel weird at all about sharing the practice process. I didn't actually think anything of it and I thought people would be bored. But then, I started reading the comments, and people found it helpful.
What is your practicing philosophy?
From the #100daysofpractice, I realized that practice is such a taboo. A caveat is that a few teachers do teach their students how to practice and really work with them on the process. But for the most part, practice is like going into a room, looking in a mirror, picking out everything you don't like about yourself, trying to change it without any tools, and then showing up fixed.
I think it's better to follow what I've wound up thinking of practice as, which is this sort of ongoing experiment where the pressure is off. That's your free place to find your zone. You can't force results that aren't going to come, but you can experiment and free your brain to find new solutions and think about things a different way. I think it's a longer-term solution and it's better for your longevity as an artist. It increases your creativity and helps stop that negative cycle of self-criticism.
With visual art, my guess is that you're constantly seeing what you did and questioning it, but you at least see what you did and what you left last night is there in the morning.
With practice though, you're on your own and it's always fleeting. You can't stop and examine it because it stops the second you stop playing. You don't know what you retained and you feel like you forgot everything.
With #100daysofpractice, it's helpful to know that everyone has that. I think that sense of community is really helpful.
Recently, what has excited you musically? What are some unique initiatives you're involved in right now?
I recently released the album, "Eclipse," which is for me, an arrival and a re-energizing event in my life. It's at the same time the spark and the bonfire all at once.
It was great to create a project with colleagues and friends that you have a long history with. Also, at this point with my albums, I chart my own artistic evolution through them — so each one is a marker along the way.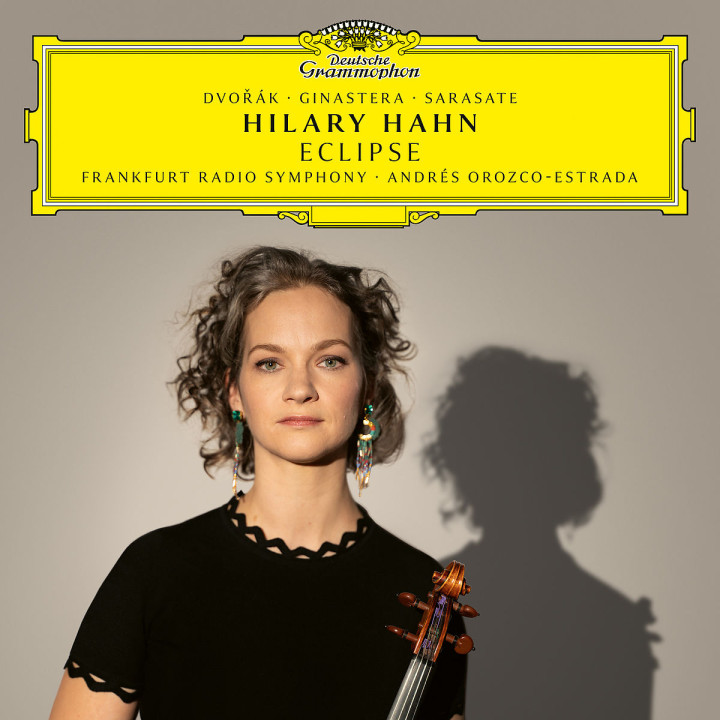 As far as other projects, I think an overall concept I'm trying to encourage people in the field to keep up with is the accessibility of concerts. One positive thing that happened during the lockdowns was all the content that was created online and all the concerts that were streamed.
I've heard from a lot of people who don't normally have easy access to the concert hall for various reasons, and they've said they finally got the same experience as everyone else. So as we return to the concert hall, we have to also remember that we may be removing some of those experiences from people.
I think online content shouldn't be a sort of shadow of what you experience in person. Rather. it should be created especially for the online space. I had a world premiere of  "Isolation Variation" during lockdowns, and it was a global premier. People signed in all different time zones, all at the same time. Since it was prerecorded, I was able to be in the chat room when it was premiering and that was a lot of fun.
What does winning the Musical America "Artist of the Year" mean to you?
It's super exciting because I grew up with the Musical America Printed Directory in my house. It's this tall magazine that all the managers and presenters had, with all the industry information in it. Every year on the cover was the "Artist of the year."
You have a lot of dreams as a kid, it just somehow didn't occur to me. It was always the really big career artists and sometimes you just kind of bypass imagining something for yourself. So when I heard that I was going to be Artist of the Year, I had one of those flashback moments, and it all came full circle.
I feel really honored! Now that I'm back on the road, the momentum can be a lot, so it's nice to be encouraged to stop and look back, look forward, and be in the same place all at once. It can feel like you're chasing the next thing, and sometimes you also have to acknowledge the beautiful moments where you have actually arrived.
And then, tomorrow, you can plan your next thing.
It's funny because Jesse Montgomery is Composer of the Year and we're both artists-in-residents at the Chicago Symphony Orchestra. In our group chat, the last thing in there is a selfie we took in the dressing room together! The picture was a premonition!
Also, lots of colleagues of mine have been named Artists of the Year in recent years, so it reminds you of what you're connected to.
If you have to give a piece of advice to young performers working towards a solo career, what would it be?
This might sound useless, but I could tell you from my forties, this is useful. I think young musicians spend a lot of time trying to become more like their idols or role models. Once you finally feel like a more mature musician, you realize what your own musical instincts are and try to be as true to those as possible.
My advice is to bypass all those phases in between and start identifying what your musical instincts are just in the moment. It makes it so much more fun to play. Whether by yourself or on stage or with other musicians, try to really be true to your enjoyment of the music.
For example, where do you feel like a note should be longer? Maybe in an ensemble, you can't hold it, but in practice, you can. Then, as soon as you transition from the moment where you didn't want to leave it to one where you want to move on, you'll find that your interpretive impetus is totally different. It's almost like you cleared something out and now you're free to move. There's this push and pull that you'll realize naturally happens within yourself.
I think just knowing that makes you a truer, more authentic musician. That can apply to everything: how you do your social media, how you schedule yourself, the people you work with, etc
My other piece of advice is to try to balance care and compassion for others with care and compassion for yourself.
Even as a student, instead of looking at the teacher's input as either something to agree with or disagree with, it can be a both/and situation.
You balance others' input and your feelings in your professional life too. That's why it's good to start identifying your instincts as soon as you can because it's a lifelong practice.