INTERNATIONAL DAY OF THE GIRL
INTERNATIONAL DAY OF THE GIRL | Hilary Hahn's Keynote Speech [WATCH]
Watch Hahn give the keynote speech in November of 2020, at the 2nd annual Women in Classical Music Symposium
MONDAY OCTOBER 11, 2021 | 6:30 PM (ET)
UNITED NATIONS "INTERNATIONAL DAY OF THE GIRL"
HILARY HAHN KEYNOTE SPEECH
2020 DALLAS SYMPHONY WOMEN IN CLASSICAL MUSIC "AWARD OF EXCELLENCE"
Tonight's keynote speech is given by 2020 Dallas Symphony Women in Classical Music Symposium Award of Excellence recipient, violinist Hilary Hahn.
The three-time Grammy award winner, guided by her own curiosity, is recognized internationally as one of the finest violinists of her generation and for her incredible dedication to educational causes, musical innovation, and the commissioning of new works for the violin repertoire.
To help celebrate today's United Nations "International Day of the Girl," The Violin Channel, in collaboration with our good friends at the Dallas Symphony, is hosting an all-day special online festival dedicated to gender equality and inspiring the next generation of women in classical music.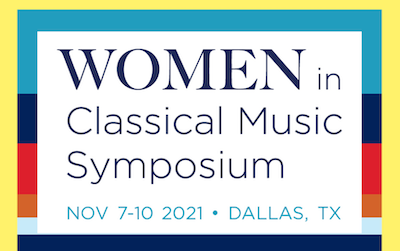 Presented by the Dallas Symphony Orchestra from November 7-10, the Women in Classical Music Symposium will be held in-person in Dallas, and will feature further talks and panel discussions on topics relevant to women in the classical music industry | This year's focus will be on "The Future is Female – Inspiring Women in Top Leadership Positions," and will also include a series of networking events, performances and opportunities for peer engagement | This year's featured guest will be Grammy Award-winning soprano Renée Fleming, who will receive the Symposium's Award of Excellence | To learn more and to register, visit: www.womeninclassicalmusic.com