INTERNATIONAL DAY OF THE GIRL | Q&A with Conductor JoAnn Falletta
The Violin Channel recently talked with multiple conductors at different stages of their careers to discuss what it means to be a female conductor in today's industry
We started with JoAnn Falletta, Music Director of the Buffalo Philharmonic Orchestra.
At what moment did you realize you wanted to be a conductor? Who were your main inspirations and people who encouraged you?
I decided that I had to be a conductor at a concert I heard when I was 11 years old, performed by the American Symphony at Carnegie Hall, conducted by Leopold Stokowski. I remember feeling overwhelmed with their glorious Beethoven Sixth Symphony, and thinking that if I could be the person who helped bring something so beautiful to life, it would be my greatest dream. My main inspirations were my teachers: Jorge Mester, Sixten Ehrling, and Semyon Bychkov. I also had the chance to work in master classes at Juilliard with Leonard Bernstein, an extraordinary icon for all of us.
What were the obstacles that you faced as an emerging young female conductor while building your career? Was it more difficult for you, do you feel, than your male colleagues?
I feel very lucky that I entered the conducting world when it was opening up to women, but there were very few of us then. It was probably more difficult for people to imagine a woman on the podium, but fortunately, that is now changing!
What advice do you have for little girls and young women in your audience with their own aspirations of one day leading an orchestra?
Being a musician is a lifelong commitment, and requires complete devotion to that calling. But the satisfaction of working in the middle of music is tremendous. I would advise young people to be prepared to work incredibly hard and to cherish every step of the journey. It is a great privilege and a joy to be a musician.
JoAnn Falletta is a Multiple GRAMMY-winning conductor who serves as Music Director of the Buffalo Philharmonic Orchestra, Music Director Laureate of the Virginia Symphony Orchestra, Principal Guest Conductor of the Brevard Music Center, and Artistic Adviser of the Hawaii Symphony Orchestra. She was recently named one of the "Fifty Great Conductors," past and present, by Gramophone Magazine, and has been hailed for having "Toscanini's tight control over ensemble, Walter's affectionate balancing of inner voices, Stokowski's gutsy showmanship, and a controlled frenzy worthy of Bernstein." Upon her appointment as Music Director of the Buffalo Philharmonic, Falletta became the first woman to lead a major American ensemble.
To help celebrate today's United Nations "International Day of the Girl," The Violin Channel, in collaboration with our good friends at the Dallas Symphony Orchestra, is hosting an all-day special online festival dedicated to gender equality and inspiring the next generation of women in classical music.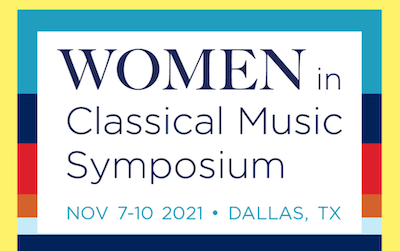 Presented by the Dallas Symphony Orchestra from November 7-10, the Women in Classical Music Symposium will be held in-person in Dallas, and will feature further talks and panel discussions on topics relevant to women in the classical music industry | This year's focus will be on "The Future is Female – Inspiring Women in Top Leadership Positions," and will also include a series of networking events, performances and opportunities for peer engagement | This year's featured guest will be Grammy Award-winning soprano Renée Fleming, who will receive the Symposium's Award of Excellence | To learn more and to register, visit: www.womeninclassicalmusic.com