INTERNATIONAL DAY OF THE GIRL
INTERNATIONAL DAY OF THE GIRL | Q&A with Conductor Katharina Wincor
The Violin Channel recently talked with multiple conductors at different stages of their careers to discuss what it means to be a female conductor in today's industry
We talked with Austrian conductor Katharina Wincor, Assistant Conductor of the Dallas Symphony Orchestra and recipient of the Neeme Järvi Prize at the Gstaad Menuhin Festival in 2017.
At what moment did you realize you wanted to be a conductor and who were your main inspirations and people who really encouraged you?
Growing up in a musical family, I was always interested in trying out different things, so it was natural for me to eventually give conducting a shot, as well. After leading a few projects as a teenager, I realized that I enjoyed it so much that it made sense to pursue it in university and eventually as my life's work. Being involved in rehearsals with some fascinating artists like Nikolaus Harnoncourt, Iván Fischer, and Fabio Luisi motivated me to keep going.
I have to thank my parents to support and encourage me with all of my interests, especially in the beginning, when nobody knew how it would turn out.
What were the obstacles that you faced as an emerging young female conductor as you were building your career? Was it more difficult for you, do you feel, than your male colleagues?
Any profession comes with struggles, and I am lucky to say that mine have been unrelated to my gender. I have found that the biggest challenge in becoming a conductor is simply being able to get the time on the podium to develop. Established orchestras rarely enjoy playing with totally inexperienced conductors, but without getting a chance to stand in front of these orchestras on a regular basis, one will always stay that way. My assistantship in Dallas was an incredible opportunity because the orchestra commited to giving me several concerts over the course of my two years. In this way I could develop without the fear of never getting another try.
It is a bit difficult for me to say if the process of building my career has been more or less challenging than for men. I am convinced that I have male colleagues that have had it easier than me, just as some others have had it harder. The reasons for this are as varied as the people involved.
What advice do you have for little girls and young women in your audience seeing you on the podium with their own aspirations of one day leading an orchestra?
Conducting requires a very broad knowledge of music; everything from understanding composition, to how instruments work, understanding the interpersonal relationship between a conductor and orchestra…Learning all of this takes time and perseverance, and we have to allow ourselves to take that time. So, my advice would be: start as soon as you can and don't give up!
Austrian conductor Katharina Wincor has made her critically acclaimed Dallas Symphony Orchestra subscription debut in 2021, performing works by Mendelssohn, Schubert, and Anna Clyne. Recent and upcoming appearances include the Grafenegg and Gstaad festivals, as well as debuts with Bruckner Orchester Linz, Phoenix Symphony, and the Amarillo Symphony. At the invitation of Laurence Equilbey, Wincor will serve as the chorus master for two performances of Beethoven's Missa Solemnis with the orchestra of the Opéra de Rouen Normandie. In 2012, she founded her own choir, Bunte Steine, which has won national and international competitions.
Wincor received third prize at the 2020 Mahler Competition. Her participation in masterclasses and competitions has allowed her to work with world-renowned orchestras, such as the Danish National Symphony Orchestra, Bamberger Symphony, and City of Birmingham Symphony Orchestra. She was one of just four conductors invited by Iván Fischer for a masterclass with the Royal Concertgebouw Orchestra and subsequently was engaged as his assistant conductor for special projects with the Budapest Festival Orchestra. Other mentors include Fabio Luisi, Riccardo Muti, and David Zinman. At the 2017 Gstaad Menuhin Festival, Katharina received the prestigious Neeme Järvi Prize.
To help celebrate today's United Nations "International Day of the Girl," The Violin Channel, in collaboration with our good friends at the Dallas Symphony Orchestra, is hosting an all-day special online festival dedicated to gender equality and inspiring the next generation of women in classical music.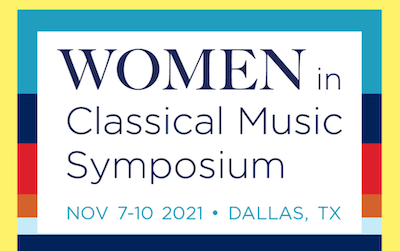 Presented by the Dallas Symphony Orchestra from November 7-10, the Women in Classical Music Symposium will be held in-person in Dallas, and will feature further talks and panel discussions on topics relevant to women in the classical music industry | This year's focus will be on "The Future is Female – Inspiring Women in Top Leadership Positions," and will also include a series of networking events, performances and opportunities for peer engagement | This year's featured guest will be Grammy Award-winning soprano Renée Fleming, who will receive the Symposium's Award of Excellence | To learn more and to register, visit: www.womeninclassicalmusic.com