INTERNATIONAL DAY OF THE GIRL | Twelve Women Who Changed Classical Music
These 12 women performers, composers, educators and leaders changed — or are changing — the classical music landscape
To help celebrate today's United Nations "International Day of the Girl," The Violin Channel, in collaboration with our good friends at the Dallas Symphony Orchestra, is hosting an all-day special online festival dedicated to gender equality and inspiring the next generation of women in classical music.
In the spirit of celebrating the contribution of women to classical music, we're sharing vignettes of a small sample of female composers, performers, educators, and activists who have shaped the field, musically and otherwise.
Hildegard von Bingen (1098-1179)
Hildegard, also known as Saint Hildegard and the Sibyl of the Rhine, is one of the first known composers in the history of Western art music. She was a Benedictine nun who lived in a hilltop monastery, writing poems and songs for her nuns, many of which were popularized beginning 800 years after her death. One of her notable works is "Symphonia armonie celestium revelationum," a collection of 77 of her lyric poems set to music. Additionally, in a departure from conventional behavior for women at the time, she traveled widely throughout Germany and evangelized to large groups of people.
Elisabeth-Claude Jacquet de la Guerre (1665-1729)
De la Guerre was a French Baroque composer, harpsichordist, and organist in, for a time, the court of Louis XIV. Born into a musical family, she was the first woman to compose an opera in France — "Céphale et Procris," which was written in 1694. She is remembered for her chamber music for harpsichord and violin, which drew influence from both French and Italian Baroque styles. 
Ethel Smyth (1858-1944)
Smyth was a 20th-century British composer known for championing women's rights and female musicians. She wrote symphonies, operas, and other choral works, most notably "The March of Women," an anthem about women's suffrage. The piece was written in 1911 when Smyth took two years off from her music career to focus on the fight for women's rights. The following year, Smyth was one of 100 suffragettes arrested in London for throwing stones at the houses of suffrage opponents. She was put in prison for a period of two months — during her time there, she put on a performance of "The March of Women," which she conducted with her toothbrush. She was named a Dame of the British Empire in 1922. 
Rebecca Clarke (1886-1979)
Clarke was a British American classical composer and viola virtuoso who became one of the first female professional orchestra players. She studied at the Royal Academy of Music and Royal College of Music in London but moved to the United States at the beginning of World War II. In the early 20th century, Clarke presented her piece "Morpheus" for viola in Carnegie Hall — but her publisher had her issue the piece under the pseudonym "Anthony Trent." Clarke would continue to use the pseudonym when she entered her Viola Sonata, now one of her most-performed pieces, in the Berkshire Musical Festival, where she lost to Ernest Bloch via a tiebreak vote. In 2000, the Rebecca Clarke Society was created to promote the study and performance of her music.
Florence Price (1887-1953)
Price, a classical composer and pianist, graduated as valedictorian of her class at age 14. She then attended the New England Conservatory — her mother told the school Price was of Mexican descent to minimize the prejudice she would face as a Black woman at the institution — and earned a double degree in organ and piano performance. From 1910-1912, Price taught at and served as music department head of what is now Clark Atlanta University. In 1933, the Chicago Symphony Orchestra premiered Price's Symphony in E minor — this made her piece the first composition by a Black woman to be played by a major orchestra.
Nadia Boulanger (1887-1979)
Boulanger was a French conductor, music teacher, pianist, and organist. During her seven-decade teaching career, she influenced generations of young composers, including Elliott Carter, Aaron Copland, Daniel Barenboim, and Astor Piazzolla. She worked at institutions including the Juilliard School, the Yehudi Menuhin School, and the Royal Academy of Music, although she was based in Paris. Boulanger was also the first woman to conduct several major orchestras in the United States and Europe, including the BBC Symphony, Boston Symphony, The Hallé, and the Philadelphia Orchestra.
Martha Argerich (1941-)
Argerich is an Argentine Swiss concert pianist widely considered as one of the best pianists of all time. She gained prominence after winning the VII International Chopin Competition in 1965 and, later that same year, performing at the Lincoln Center's Great Performers Series. She has won three Grammy Awards, the Japan Art Association's Praemium Imperiale for Music and a Kennedy Center Honor, among other accolades. Argerich is especially well known for her recordings and performances of chamber music, especially of works by Messaien, Prokofiev and Rachmaninoff. She has often said in interviews that she feels "lonely" on stage in solo performances. 
Tania León (1943- )
Born in Havana, León is a Cuban-American composer and conductor who won the 2021 Pulitzer Prize in Music for her orchestral composition "Stride" — commissioned by the New York Philharmonic for the centennial of the women's suffrage amendment. León has also received Grammy and Latin Grammy nominations for Best Contemporary Classical Composition, among many other accolades, and appeared as a guest conductor around the world. León has served in prominent roles at the Dance Theater of Harlem, American Composers Orchestra and New York Philharmonic, among other ensembles. She is currently the founder and artistic director of Composers Now, a New York-based nonprofit that celebrates the diversity of the city's composers.
Laurie Anderson (1947- )
Anderson is an American avant-garde artist, violinist, composer, and film director who was one of the first to blend performance art, multimedia projects, and pop music. She is a pioneer in electronic music — in 1977, she created a tape-bow violin, where she replaced the bow's horsehair with recorded magnetic tape and put a magnetic tape head in the bridge. Anderson also created an instrument she called a "talking stick," which is a MIDI controller with the ability to access and replicate sounds. Much of her work focused on language, technology, and visual art, as she was also trained in sculpting.
Deborah Borda (1949-)
In 1991, Borda became the Executive Director of the New York Philharmonic — the first woman to preside over the administration of a major United States symphony orchestra. In the years since then, Borda has helped lead the Los Angeles Philharmonic, The Saint Paul Chamber Orchestra, the Detroit Symphony Orchestra and Avery Fisher Artist Program. Currently, she serves as the CEO of the New York Philharmonic. Initiatives she has spearheaded include the NY Phil Bandwagon, a series of "pull-up" concerts presenting Philharmonic musicians in concert alongside a pickup truck across New York City, and Project 19, the largest commissioning project of women composers in history in honor of the women's suffrage centennial.
Marin Alsop (1956- )
Alsop is a conductor who became the first woman to lead a major American Orchestra when she was appointed as music director of the Baltimore Symphony Orchestra in 2007 — a position she still holds today. She is also the chief conductor of the Ravinia Festival and the Vienna Radio Symphony Orchestra, where she is also the first woman to hold that post. She has received many honors, including 2003 Gramophone artist of the year, and was also the first conductor to be awarded a MacArthur fellowship. Earlier this year, she was featured in a documentary "The Conductor."
Midori (1971- )
Midori is a concert violinist, activist, and educator who aims to break with traditional boundaries and is known for her intimate expression in performances. She has soloed with major orchestras around the world and is a prolific, Grammy Award-winning recording artist. In recognition of her humanitarian work, Midori serves as a United Nations Messenger of Peace. She has founded several nonprofits, including Midori & Friends, which provides music programs for New York City youth and communities, and MUSIC SHARING, a Japan-based foundation that brings together Western art music and Japanese music traditions into schools, hospitals, and other institutions.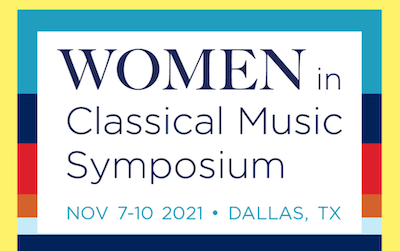 Presented by the Dallas Symphony Orchestra from November 7-10, the Women in Classical Music Symposium will be held in-person in Dallas, and will feature further talks and panel discussions on topics relevant to women in the classical music industry | This year's focus will be on "The Future is Female – Inspiring Women in Top Leadership Positions," and will also include a series of networking events, performances and opportunities for peer engagement | This year's featured guest will be Grammy Award-winning soprano Renée Fleming, who will receive the Symposium's Award of Excellence | To learn more and to register, visit: www.womeninclassicalmusic.com