Native American Violinist and Composer Zitkála-Šá, The "Red Bird"
Also known as Gertrude Simmons Bonnin, Zitkála-Šá was the co-composer and librettist for what is now considered the first Native American opera
Gertrude Simmons Bonnin was born in 1876 on the Yankton Indian Reservation in South Dakota. She was also known by her Sioux name, Zitkála-Šá, meaning "red bird" in the Lakota language of the Sioux tribes.
In 1913, she worked on the opera, The Sun Dance, which included traditional Yankton rituals, dance, and melodies. It is the first and one of few grand operas written by an American Indian, and featuring American Indian performers. It first premiered in Utah, and was later presented by the New York Light Opera Guild in 1938. 
As well as being a violinist and composer, Zitkála-Šá's work as a writer and activist helped spearhead citizenship and voting rights for women and all Indigenous people in the early 20th century.
She was a member of the Yankton Sioux/Dakota Nation, and spent her childhood on the reservation with her mother Ellen Simmons, who was of Sioux Dakota heritage. Her father was of French descent, and had left the family early on.
When she was eight years old, missionaries from the White's Manual Labor Institute visited the reservation to recruit children for their boarding school, and Zitkála-Šá was placed at the Quaker-run boarding school in Wabash, Indiana. 
According to her autobiographical essays, she, alongside many Indigenous children, became victims of boarding schools attempting to assimilate them and erase Native traditions and culture. She was punished and beaten whenever she spoke her tribal language or practiced her Sioux culture. 
After completing her studies, she enrolled in a teacher training program at Earlham College. She later transferred to Boston's New England Conservatory of Music, where she studied violin from 1897 to 1899. 
In 1900, at the age of 24, she performed solo violin with the Carlisle Indian Band at the Paris Exposition, and performed at the White House for then President William McKinley.
She also taught music and speech at Pennsylvania's Carlisle Indian Industrial School, but left within two years, believing its administration to be patronizing Native students by giving them limited vocational work rather than academic subjects. 
Following her return to the reservation, Zitkála-Šá began working as a clerk for the Bureau of Indian Affairs (BIA) at the Standing Rock Indian Reservation. In 1902, she married Captain Raymond Talephause Bonnin, who was also of Yankton Sioux ancestry. They had a son named Raymond Ohiya Bonin.
In 1911, she joined the Society of American Indians (SAI), where she became the secretary in 1917. A year later, she spoke at the National Women's Party headquarters in Washington, D.C.
Using Zitkála-Šá as a pen name, her essays and short stories were published in the Atlantic Monthly and Harper's Weekly. Her first book, Old Indian Legends, translated many Sioux myths into English — preserving them for future generations.
When Zitkála-Šá met and started collaborating with William Hanson, a music professor at Brigham Young University, she combined her love of words and music to compose and create the libretto for her first opera. 
The Sun Dance was inspired by a ceremony of spiritual healing, which was then outlawed by the U.S. Government. The titular dance is common among the tribes on the Plains, and depicts personal devotion and sacrifice. 
The opera was staged across Utah 15 times by a mixed Native and non-native cast. At the time, some critics thought it presented American Indians stereotypically.
"She is resisting the denial of religious ritual, and trying to elevate these tribal sacred dances and songs to what she knows is respected in Western society, which is grand opera," explained LaDonna Brave Bull Allard on PBS. 
Allard is known by her Sioux name Ta Maka Waste Win, meaning "Her Good Earth Woman," and is a historian and genealogist for the Standing Rock Sioux Tribe. "The opera gave a space to perform sacred dances and songs in a public setting," she added. "It preserved those songs."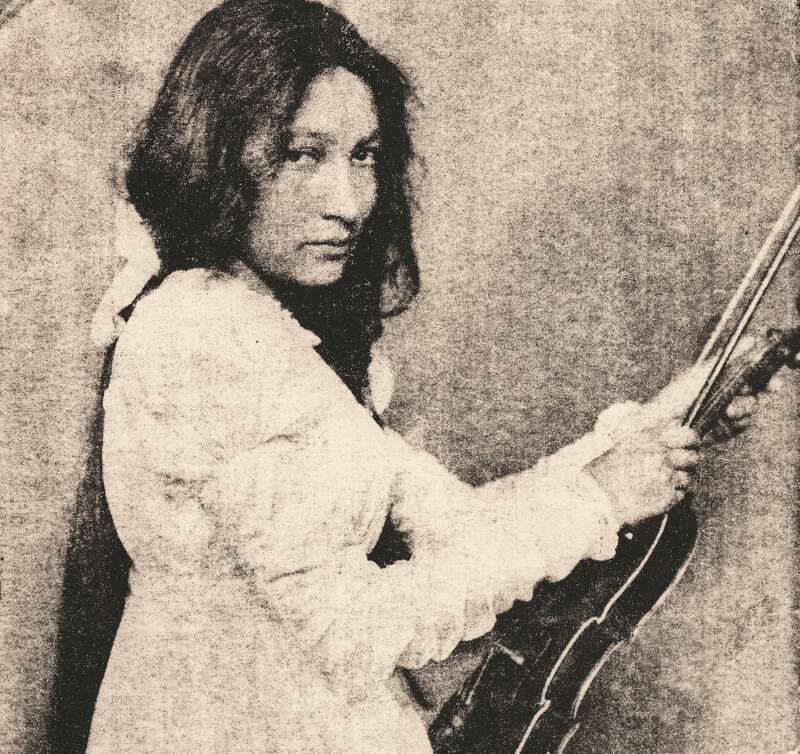 As a writer, Zitkála-Šá's articles in the 1920s focused on Dakota history and culture, government corruption and injustices toward Native people, corruption of reservation systems, harrowing experiences of Indigenous children who were placed in boarding schools, and countered the conversion of Native people into Christianity.
When white women in the U.S. achieved suffrage rights in 1920, Zitkála-Šá encouraged them to use their influence to enfranchise Native peoples. From her efforts, Congress passed the Indian Citizenship Act in 1924, which granted full citizenship rights to all native-born people in the country.
To bridge the political activism of Natives across the country, Zitkála-Šá and her husband founded the National Council of American Indians in 1926, which saw them discuss policy and legislation with the public, and register voters. She served as president of the Council for 12 years. 
Zitkála-Šá kept advocating for Native rights, suffrage, and self-governance until her death in 1938 at age 61. She was buried at Arlington National Cemetery next to her husband.
A mini documentary about her by PBS's American Masters, can be viewed below.