The DO's and DON'Ts when Collaborating with Pianists
Filipino-American pianist Carlos Avila discusses his essential list of DO's and DON'Ts for effective musical collaborations
As string players, much of our repertoire is often paired with a part for piano. The satisfaction of playing a Brahms violin sonata with a pianist is world's apart just from playing the violin part alone. What are some important pointers for instrumentalists when collaborating with pianists?
Pianist Carlos Avila shares his advice on the topic.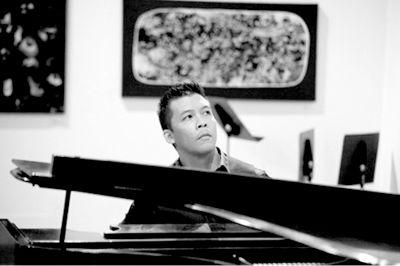 Pianist Carlos Avila speaks on the "do's and don'ts" when collaborating with pianists
When it comes to collaborating with a pianist, there exists a code of unspoken etiquette that can make music either more miserable or more enjoyable. For students looking to pursue a career in the music world, learning the "dos and don'ts" can be an integral part of building a viable career because let's face it: nobody wants to play with a jerk. Many of these seem like common sense but it's astounding how the simplicity of social grace can be so difficult.
DO write a good email. This is often your first impression. Be polite and don't forget to state all relevant information (who you are, what instrument you play, date of concert, availability, contact info, repertoire to be performed, etc.). You would be surprised how many times pianists receive emails that look like this: "Hi, can you accompany me? Thanks. –Mark."
DON'T use the word "accompanist" or even "collaborative pianist." Most of the time, pianists have way more notes in their parts than you do and more often than not, their part is also as difficult (or more difficult!) than yours. The word "accompanist" implies a subservient identity in what should be an equal-collaborative role, not to mention they often do many other things in their lives (including solo piano). The term "collaborative pianist" is redundant – they know they're about to collaborate with you. Practice efficiency: someone who plays the violin is a violinist, someone who plays the cello is a cellist, and someone who plays the piano is a pianist. Simple!
DO study your score and come prepared (and always bring your score to rehearsal). Someone once said "practice is for learning your part and rehearsal is for learning everyone else's part". This is somewhat true but practice is also for learning the other parts. Always practice with the score nearby if not on your stand beside your part. Joel Krosnick, the former cellist of the Juilliard String Quartet says "always play the other parts on your instrument during your individual practice time, even if you have to do it up or down an octave and it sounds bad."
DON'T assume that a piano part to an instrumental sonata can be learned overnight. Sometimes a piano part is even harder than the solo part to a piano concerto! A large number of pianists will tell you that the piano part to Rachmaninoff Cello Sonata or Ravel Piano Trio exceeds the difficulty of Rachmaninoff Piano Concerto No. 2. One wouldn't expect you to learn Sibelius Violin Concerto overnight, so show the same understanding and decency to a pianist.
DO be reasonable with payment. This is a complicated issue (that could probably have an article of its own!) that differs from one situation to the next. If you're taking an audition to a school or playing for a competition, ask the pianist what their rate is. If you are playing a concert or a recital in which you are not receiving payment, also ask the pianist what their rate is. If you're playing a "gig" or being paid to play a professional engagement, the presenter should be paying you and the pianist directly and ask for a contract. This often becomes even more complicated if you or the pianist is not a permanent resident of the country you are playing in.
DON'T assume you know best all the time. It's great to have an artistic vision and a personal interpretation about your music, and one would never want to take that away. But often, the pianist with whom you are playing has an incredibly extensive knowledge of the music with years of performance experience under their belt.
Remember to treat collaboration with flexibility and humility and don't be too cool to ask questions!
DO be polite and use appropriate language. Instead of saying "dude you're way too loud there," find a way of expressing yourself with a musical explanation. How about, "I wonder if you can give me some space here to let the melodic line come through with more clarity?" Pianists are human beings with emotions and feelings. Though of course, if the pianist is a good friend of yours, "dude you're way too loud there" can be just fine.
DON'T tell the pianist to put the piano lid down. It's not your instrument. Period.
DO be considerate of a pianist's time. Even if you are paying them, the pianist is very often doing you a favor. Ask them where they would like to rehearse and be willing to go to them. If you're a morning person, don't assume they will want to rehearse at 8am. If you're a night person, don't assume they will want to rehearse at 10pm!
DON'T be a jerk. Remember that you're sharing the stage and know that rehearsing with someone is very much a social situation. Being a pleasure to work with can become a great asset in your future just the same way that (regardless of how great a musician you are) being the opposite might very well land you with no gigs.
-Carlos
Do you have an idea for a blog or news tip? Simply email: [email protected]
A graduate of The Juilliard School, where he studied with Jerome Lowenthal, Carlos Avila has performed internationally for more than 20 years — including performances at the Schleswig-Holstein, Tanglewood, Sarasota, Aspen and Banff Festivals and collaborations with the late Isaac Stern, Daniel Barenboim, Michael Tilson Thomas, Emanuel Ax, Richard Goode and members of the St. Lawrence, Tokyo, Guarneri, Juilliard, Ying and Borodin String Quartets. He currently serves as studio pianist for cello pedagogue Joel Krosnick at New York's Juilliard School - and serves on the piano faculty of the Heifetz Institute.