PUBLIQuartet on Adjusting Your Playing to the Performance Venue
"As an ensemble, how important is it for you to adjust your playing based on the performance venue and surroundings?" We threw the question to the PUBLIQuartet
Musicians often have to play in very contrasting venues with different characteristics, acoustics, audiences, etc. Being able to adjust one's playing to those ever-changing parameters is an important skill to develop as a musician. The Violin Channel member Sarah was keen to learn more about this topic.
How do you tackle those delicate parameters? Please let us know in the comments below. We're all keen to learn more from you.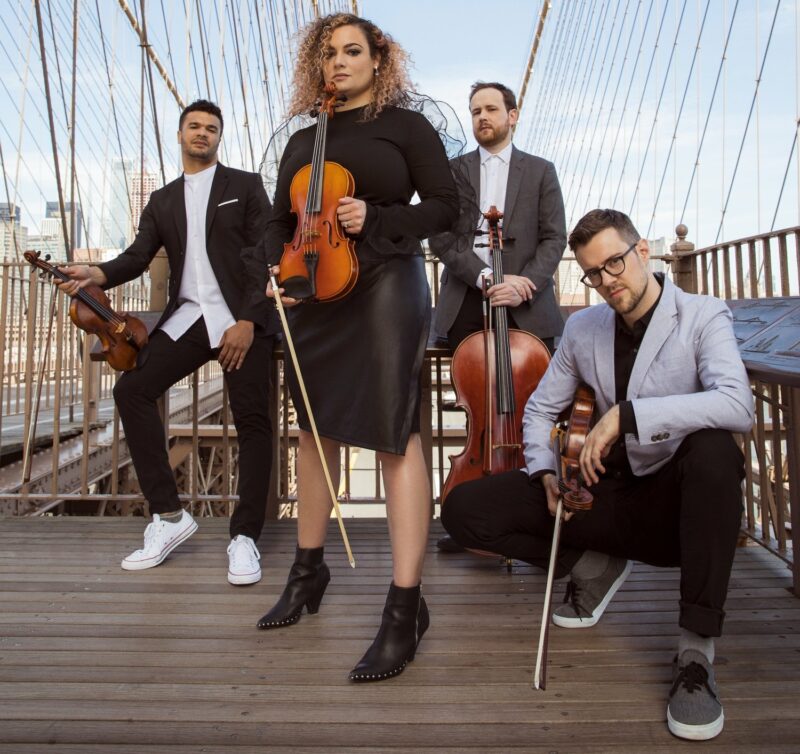 PUBLIQUARTET MEMBERS SHARE THEIR EXPERIENCE ADAPTING TO DIFFERENT VENUES AND ACOUSTICS
Dear Sarah,
People say there's an inherent duality in making music...but, as an improvising new music string quartet, PUBLIQuartet thinks of music-making as more of an ever-expanding set of contradictions... You work feverishly to make a beautiful sound, JUST for yourself; then for a person you might be trying to express something to...then your colleagues and friends, then for family gatherings, communities, then judges and teachers and competitions. For some, you make music towards history and a larger social/political discourse.  
Making music for the space you are in is a microcosm of this chaotic set of contradictions. You walk onto the stage, you are nervous, the lights are not exactly as they were in the dress rehearsal, everything is different, the sound is a bit drier than you remember, and you can't stop your bow from shaking a bit or your vibrato from having that urgent edge in this grazioso music….
I mean...asking how important it is to adjust is like asking "How important is it to listen to the person you are having a conversation with?  How important is it to tailor your ideas or be socially malleable? Conversely, how important is it to stand up and do what you believe and feel passionate about, despite opposition…"
As an improvising string quartet, one might imagine that we react exclusively to the environment around us, which is partially true, but a lot of what makes a group improvisation feel successful to us is how inward we can be within the ensemble. Being able to listen to each other, zone out the audience, and create a safe and exciting space to compose spontaneously together is a skill we have had to develop. To tap into the interlocking trust of action and reaction within an ensemble is the core of our chamber music experience. During our 90 minute improvisation on the Late Show with Stephen Colbert, we improvised to the 3rd presidential debate, and a lot of what made that sustainable and fun was the feedback loop of ideas and energy between the quartet members; we welcomed the impulse from the new collaborator, the debaters, and left the room, the millions of viewers, and the physical space out of consideration.
That being said...
In PUBLIQuartet, we end up playing a lot of music that features extraneous noises and tones that work well under the microscope of the microphone but get lost in the wash of a concert hall.  In that case, we prepare for the space: play a little closer to the bridge, with a lot more weight, the ping and projecting edge to the tone, and a more condensed and impactful bow stroke. It's chamber music, a conversation between the sound and the space.
We all have different needs of focus; feeling good individually, with each other, and with our audience.
For example, in an improvised arrangement of Hildegard that we are recording on our next album FREEDOM and FAITH, celebrating the music of women in history, there are some growled whispers and speech of old religious chant that sound perfectly horrifying when we record, but mumbled and almost soothing in a washy hall. So, we adjust.  We want to be heard and felt, and we want to hear what the audience thinks about our expression after the show.
This, of course, affects each instrument in a unique and specific way. We can't ask for more low end in wet spaces, and as little high's as possible in the dryer ones. The tempo and articulations adjust based on whether you can hear all the little notes in fast passages from far away, and with microphones, we have to be a touch less percussive in our rhythm chains, stomps, and martele, while being warmer and richer in the sustained passages. Our playing also depends on the concept of the program; if we are part of a larger format of other musicians or performers, we might phrase differently, either with more ornate shapes or a simpler sound to get out of the way. We were in a run with a set of premiers with LA Dance project last year, which was a test of our ability to adjust to the vibe of the dancers' movement, while still being consistent and dependable with tempo and articulation.
Performing is all of the above: knowing when to give and take, and when to be rock solid. Before Google maps, you'd often find yourself going down a highway and wondering if you missed your exit, asking "Do I stay the course, or turn back..." Of course, as you travel more, you learn to trust and own your choices, you become an expert in the flow of your own movement.
At the end of the day, you are you, your music is yours, and that is why an audience comes to hear YOU. Whichever path you take is the one we as the audience are on. That is what makes being the one on that stage so unbearably vulnerable from time to time: The conversation of give and take, the emotional highway of constant choice becomes the audience's fodder, and that type of sharing is something rarely experienced, and in our opinion, a moment to be cherished and celebrated.
–PUBLIQuartet
Do you have a burning question for one of the Pros?
Simply email: [email protected]
Comprising violinists Curtis Stewart and Jannina Norpoth, violist Nick Revel and cellist Amanda Gookin, the PUBLIQuartet are former quartet in residence at the Juilliard String Quartet Institute, Robert Mann String Quartet Institute, the Shouse Institute, Banff Centre and New York's Metropolitan Museum of Art. They have recently launched a fundraiser to promote the Recording of works by female composers that explore themes of spirituality, resilience +inspiration: https://bit.ly/2At4mvb