VC INTERVIEW | Annette Müller-Zierach - Pirastro Evah Pirazzi Violin String Set 20th Anniversary
VC recently caught up with Pirastro Managing Director Annette Müller-Zierach - to discuss this month's 20th anniversary celebration of the popular Evah Pirazzi Violin String Set
The Violin Channel recently caught up with Annette Müller-Zierach - Managing Director of the German-based Pirastro String Company.
We sat Annette down to discuss this month's 20th anniversary celebration of the popular Evah Pirazzi Violin String Set.
Thank you Annette. Pirastro has a very long history and tradition. Can you please tell us about your family's legacy and linage?
"PIRASTRO GmbH was founded in 1798 by our great-great-great-grandfather Giorgio Pirazzi. 
The original name of the Italian string-maker was "Giorgio Pirazzi and Sons," with representatives in Rome, Naples and Padua.
Giorgio was a miller's son born in Domodossola, Italy in 1766.
As a 14-year old, he was sent to work with string makers in both Naples and Rome, where he learned the craft of manufacturing strings.
On completing his apprenticeship, he returned back to his home on the shores of Lake Maggiore.
There, he met Italian families who benefited greatly by moving to Frankfurt and were then returning to their old homes for the holiday season.
These families invited Pirazzi to visit them in Frankfurt.
Pirazzi accepted their offer and eventually settled in Germany.
However, life was not easy for new arrivals, as the guilds refused to admit new craftsmen in order to protect the existing livelihoods of those already in the city.
These measures caught the attention of one of the region's princes, the Count of Isenburg, who encouraged the rejected Italians to settle in his own wealthy county of Offenbach, just south of Frankfurt.
Giorgio Pirazzi seized this opportunity and eventually received an invitation from a wealthy Offenbach landowner to found a factory on his land and thus pursue the craft."
Where did the Pirastro name come from?
"The business grew slowly and steadily, and in the 1890s, the grandson of the founder, Gustav Pirazzi, invited his friend Theodor Strobel to join him as a business partner.
The partners combined the first four letters of their last names to create the PIRA-STRO brand, which it is still known as today.
Strobel died in 1922 and Gustav's son Hermann took over the firm, leading it until his death in 1976."
This month you are celebrating the 20th Anniversary of the Pirastro Evah Pirazzi Violin Set - now the string of choice of millions of violinists globally. How are you marking this milestone?
"This success story really started with the Obligato string line.
It took us a long time to co-develop the new synthetic core material with our supplier.
We needed to understand how to work with it, as well as learn what we could achieve using different construction methods. 
After that, we understood what we could accomplish with the new material.
After the success of the Obligato, we listened to market feedback and decided to develop the Evah Pirazzi Violin strings.
The aim of Evah Pirazzi was to have a set of strings that would serve the soloists' needs by providing an abundance of power.
At that time, the desire for a set of ever-more powerful strings was great.
The Evah Pirazzi string line satisfied this without a loss of complexity in the sound and the ability to play pianissimo."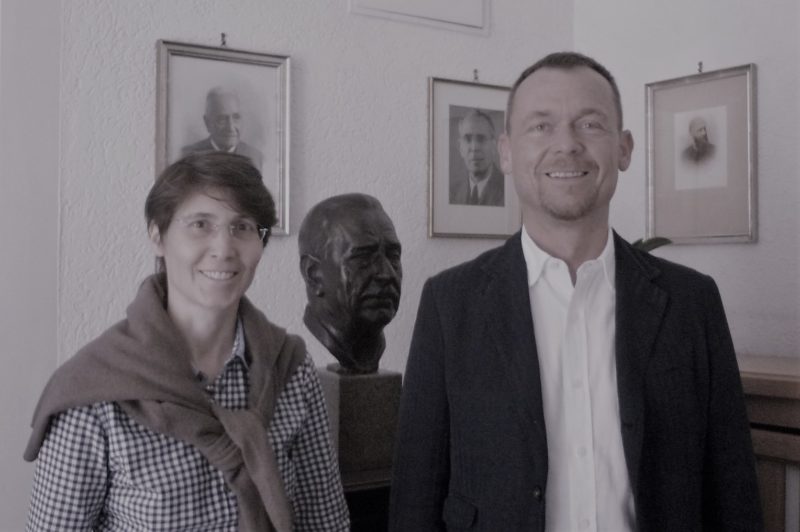 ANNETTE & HENNING MULLER-ZIERACH - WITH PHOTOS AND A SCULPTURE OF THE PIRAZZI FAMILY LINE
Tell us about the release of this set back in 2000 and how it was almost a turning point for your organization?
"The Evah Pirazzi Violin strings were launched at the Frankfurt Musikmesse in 2000.
Since then, we have steadily grown the Evah Pirazzi family of products - which today includes strings sets for violin, viola, cello and double bass.
Due to our long history, "since 1798," all of our product development goes back to gut core strings.
We continue to further develop the gut core strings, with lines like our Passione strings.
As you can imagine, it was a completely new experience developing different kinds of synthetic core strings.
In addition to our catalogue of gut and steel core strings, we started our first nylon core strings, the Tonica, in the early 1990s.
These offer a lively and round sound plus an easy response to any bowing style - which started a new era for musicians using Pirastro strings.
After the introduction of the Tonica, we started working with the new synthetic core material and introduced our Obligato Violin strings in 1998.
Further development, leading to the Evah Pirazzi Violin strings, have opened up new possibilities and convinced soloists to use synthetic core strings on stage as well.
After its release, many violin shops discovered that the Evah Pirazzi strings "woke up" older instruments and helped sell violins.
The Evah Pirazzi strings are deemed a milestone in developing our wide range of synthetic core strings."
Following this huge success of the Evah Pirazzi set, how do you feel Pirastro began to evolve as a business in new directions?
"To be honest, I do not think we evolved as a business in new directions.
Our approach has always been to listen to musicians and their needs.
With the emergence of the internet and email, we had a great opportunity to quickly reach musicians directly and world-wide.
We have established a reputation that if you write to [email protected], you will always get an answer.
This email address is Adrian Mueller's, our technical director, and is checked several times daily.
He needs to be in constant contact with musicians to hear their feedback.
This has allowed us to quickly find blind spots in our product range and allowed us to fix them quickly.
We have also never believed that there is one string that fits it all.
We had the Eudoxa as a versatile string, developed in 1920s, which became a long-time standard. 
But my grandfather always tried to offer variations for different needs and developed a string that was aimed at soloists, the Oliv.
This has been our approach ever since. Two recent examples are the introduction of the Evah Pirazzi Gold and Perpetual for violin.
The other key factor to success is to find new materials and construction methods to enlarge the technical boundaries of what is "possible."
We design our own machinery which allows us to use different production methods to change the sound of strings.
Hence, we have different e.g. violin spinning machines for the different violin string brands."
The name of the set and the packet imagery have a personal meaning to your family. Can you tell us about this and why is this so important to you?
"The name of the Evah Pirazzi string line is a tribute to my mother Eva Müller-Zierach.
She was born as Eva Pirazzi and is a descendant of the company founder Giorgio Pirazzi.
At the same time, it also symbolizes that our company, along with its long manufacturing tradition in Germany, is still a family owned business.
In order to represent each immediate member of the Müller-Zierach family, an "H" was added to my mother's first name Eva.
The new spelling "EVAH" now includes all the initials of our immediate family's first names: "E" for my mother Eva," V" for my father Volker, "A" for me, and "H" for my brother Henning.
The design of the packaging includes an iconic green portrait of a strong woman's face, which has a family connection as well.
This painting is a portrait of my mother Eva, made by my father Volker, who studied as painter.
Along with his work in the management of the company since 1992, my father is responsible for many of the designs and graphics at PIRASTRO."
How do the Evah Pirazzi strings differ from the other sets in the Pirastro suite and who are they ideally suited for?
"The Evah Pirazzi violin strings are very well known for their outstanding playability and exceptional response at any dynamic level.
They provide a complex sound which is rich with overtones and based on a brilliant core tone - as well as an enormous projection and dynamic range.
The Evah Pirazzi strings are an excellent choice for any soloist.
They are also suitable for electric violins or violins equipped with piezo-pickups.
We have recently added a violin C-string to the Evah Pirazzi violin string line.
The introduction of a 5-string-violin set was another step within the product line created at the request of musicians.
The new 5-string violin set contains: E-silvery steel, A-aluminum, D- and G-silver, and C-tungsten-silver."
Pirastro is very known for their innovation in the industry and close collaboration with world leading artists - can you let us know any secrets on what we might be expecting next?
"This year we are proud to celebrate the 20th anniversary of the Evah Pirazzi string line.
In 2020 we have also released some new strings.
Due to the special circumstances, we couldn't present them at any exhibition, but I don't want to miss the opportunity to give you a short overview of this year's new strings.
Along with the new Evah Pirazzi Violin C-string, we have two additions to our line of Perpetual Cello strings: the A Soloist strong and the C Edition strong.
Lastly, we have completed our Perpetual Double Bass set line with the introduction of a new solo tuning set at the beginning of the year.
And there are exciting projects in the pipeline, so stay tuned for further information!
We always keep our eyes and ears open to what the musicians want, and we also have a close collaboration with our Pirastro artists who are exclusively playing our strings.
Violinists like Vilde Frang and Augustin Hadelich play our Evah Pirazzi violin strings.
You can imagine that the preferences for sounds are developing over the years.
The materials and construction methods are also always developing.
That's why Pirastro will always develop new products just to serve our artists - to keep them saying our slogan 'I'm so happy, I can't stop playing!'"