VC INTERVIEW | Violinist Kelly Hall-Tompkins - 'Black Composer Chevalier de Saint Georges'
VC recently caught up with violinist Kelly Hall-Tompkins, who performed Chevalier de Saint Georges' 1st Violin Concerto as part of Lincoln Center and WQXR's Online 'Mostly Mozart Festival'
Tell us about the French composer Chevalier de Saint-Georges? What do you know about him and how has he personally inspired you?
"Joseph Boulogne Chevalier de Saint-Georges was one of the most extraordinary historical figures of any discipline. We know so much about him because he was widely written about by so many people, from American President John Adams, to famous portrait artist Élisabeth Vigée Le Brun, to the leading fencing master's son. Saint-Georges was the reigning fencing champion in all of Europe from the ages of 17 -27, he was a prolific composer of many works, including more than twice as many violin concertos as Mozart, eight Sinfonia Concertantes written before Mozart's single, which quotes the Saint-Georges.
He was a virtuoso concert violinist who counted none other than Marie Antoinette as one of his biggest fans, friends and music students. Saint-Georges was conductor of the largest, most prestigious orchestras in Europe, which at that time were in Paris, and he not only commissioned Franz Joseph Haydn to write the Paris Symphonies, Haydn's first works out of the confines of his court position to Prince Esterhazy, Saint-Georges also conducted their premieres.
It was when I was engaged to perform this concerto Opus 5 No. 1 for the first time with orchestra, that I finally read the biography by Alain Guedé which had been on my shelf for several years, and learned about his remarkable career. I am thoroughly inspired by the elegance and beauty of his music, his personal story, and not to mention what must have been his phenomenal technique, which is said to have been an extension of his fencing prowess. I was thrilled to have had the opportunity this past January to have private audience in Paris at the National Library of France with several original manuscripts, including one of a Saint-Georges string quartet I've played many times. Saint-Georges had a near engrave-quality perfection to his handwriting. He was just extraordinary in every way"
Who were his contemporaries and influences? And can we hear similarities?
"While his music is undeniably idiomatic of the Classical period, he definitely had a style that was uniquely his own and distinct from his contemporaries of Mozart and Haydn. From non-traditional form in some of his salon pieces, to unique melodic chromaticisms to more virtuosic writing in higher ranges that harkens back more to Baroque composers such as Biber and Locatelli. But his works have a unique, palpable blend of joy and virtuosity plus a viscerally beautiful use of the orchestra"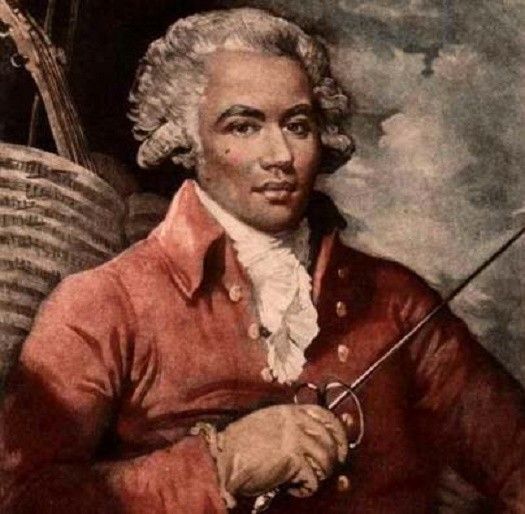 Why do you feel his music was so overshadowed in history?  
"These things are no accident. As one of the most highly respected musicians in all of Europe, Saint-Georges was appointed music director of the prestigious Paris Opera, approved by Louis XVI himself. However, the leading sopranos of the company refused to take orders from a Black man and conspired to have him removed before he even started. The position then remained open for nearly a year.
Napoleon later tried to erase him from French history by having many of his scores destroyed and banning performance of his remaining music. Though Saint-Georges endured quite a lot of racial prejudice in his life, by virtue of his station and royal associations, he was nevertheless simultaneously caught up in the bourgeois class in the French Revolution and sentenced to the guillotine no fewer than three times. But he was miraculously three times freed and died at the young age of 55, but of natural causes. 
The implicit and explicit biases that would exclude his amazing talent from the history books and concert stages are the same that exclude artists today. It seems in this moment we are finally beginning to examine and reverse some of those injustices"
You will this week perform Saint-Georges' 1st Violin Concerto as part of Lincoln Center and WQXR's Online 'Mostly Mozart Festival'. Can you tell us about this work - as many listeners would probably not be familiar with it?
"The piece begins with a courtly graciousness and joy, appropriately cast in the key of C major. The main theme of the violin entrance opens with a soaring octave leap followed by trills and crystalline and heavenly scales upward before resolving in a more earthbound register. The movement overall is buoyant and conversational, both between the violin and the orchestra and also in storytelling to the listener. There are many reflectively echoed phrases and virtuosic bow twists and turns reminiscent of Saint-George's fast fencing foil.
The slow movements of many of the violin concertos were described by a speaker in the film "Le Mozart Noir" by Tafelmusic as melancholy reflections on his prohibition in French society from marrying the women of his station. This slow movement certainly has an intimate, somber and soul-searching quality which would uphold that theory. It is so iconically classical that it seems at once familiar yet with a distinctly original voice. 
The third movement is a return to unbridled joy and virtuosity, with the various sections of the rondo taking us even to whip fast tenths before it's all over.  This concerto is a gem and great contribution to the music of the period"
Why is this performance special for you? And why do you feel it's important for Saint-Georges' and other forgotten black composers to be actively introduced to the new generation?
"The last major concert I played before quarantine was a performance of this concerto as soloist with the Baltimore Symphony. It was such a joy to play with that great orchestra. This living room performance is special to me because I still have the beautiful Baltimore Symphony sound in my ear and joyfully revisit these phrases in solitude, patiently awaiting the time when we can make music together and before an audience once again. 
If we are serious about celebrating the best that classical music has to offer, both in terms of composers' scores and artists' performances, then yes, it is critical that we introduce the artists that have been systematically excluded through centuries of prejudice.
Years ago, while preparing for the Naumburg International Violin Competition, I introduced myself to the late composer George Walker since I was including one of his sonatas in my competition programs. As we returned from lunch that day, he asked me if I knew or played concertos by composer after composer of color. At that time, I replied with a refrain of "nos."  He turned to me and said, "I'm sorry, but your education is incomplete." Having gone to the Eastman School of Music, where he was also an alum, and the Manhattan School, I was taken aback. 
But I have come to realize the that he was absolutely correct, not only on the part of the conservatories, but of the field at large. I'm proud to say that I now play a breadth of repertoire by Black composers, some of which is included on my second CD, "In My Own Voice," featured at the Smithsonian Museum of African American History"
It feels that our industry is now finally recognizing the need for greater diversity. What changes are you personally hoping to see in the coming years and what can we all do to help?
"I hope to see orchestras, concert series and prestigious concert stages simply begin to engage artists of color, not in specially redlined diversity programs and not just in February, but throughout the seasons. I would also caution against engaging artists of color to exclusively perform works by composers of color but recognizing that diversity is needed in all aspects of the field: artists of color who are engaged to play Bach, Beethoven, Ravel and Rachmaninoff too.
Personally, I love the "canon" repertoire; it is what caused me to fall in love with classical music as a child.  But I look forward to a day when a new generation of young players will grow up with works by Black composers in their canon"
What other composers of color would you really like to see programmed and featured more?
"In terms of historic composers, I was introduced to the music of Samuel Coleridge Taylor and Florence Price by the Ritz Chamber Players and Gateways Music Festival programming respectively and have fallen in love with both composers. I think they offer unique and rich voices and I would love to see them programed and featured more. 
Florence Price has recently become the first composer who is Black and Female to be published, finally, by a major publisher, in this case G. Schirmer. I was honored to perform the New York Premiere of her Violin Concerto no. 2 last year with the Urban Playground Chamber Orchestra.   
On the contemporary side of things, the organization I founded, Music Kitchen –  Food for the Soul, which pioneered bringing top artists in concert in homeless shelters, is celebrating its 15  th anniversary with an unprecedented commissioning project to invite 15 composers to set the incidental concert feedback comments of shelter clients to a song cycle called  Forgotten Voices.  
We premiered one piece per month in the shelters beginning January of 2019 and look forward to our world premiere of the full song cycle at Carnegie Hall when the pandemic lifts.  But I set out to feature some of the most important composers of our time, including many Black composers who are already doing great things and should be heard a lot more: Courtney Bryan, James Lee, Jeff Scott, Carlos Simon, Errollyn Wallen (and I also contributed a piece!)"
If we want to hear your performance of Chevalier de Saint-Georges' 1st Violin Concerto this week at the Lincoln Center and WQXR's Online 'Mostly Mozart Festival', how can we do so? 
The video for the full Pop-Up Classroom will be live on YouTube at 4pm ET on August 13: 'Camp Wolfgang' for Kids and is also available to stream on Facebook.