VC LIVE | 2023 Plowman Chamber Music Competition
Tune into The Violin Channel on March 25 & 26 for the LIVE Semi-Final and Final Rounds of this year's Plowman Competition
Columbia, Missouri
Saturday March 25th, 2023 05:00pm
HOSTED BY: The Plowman Chamber Music Competition
SET REMINDER
Tune into The Violin Channel on March 25 & 26 for the LIVE Semi-Final and Final Rounds of this year's Plowman Competition
We're coming to you LIVE from Columbia, Missouri, for the Semi-Final and Final Rounds of The 2023 Plowman Chamber Music Competition.
The biennial event, hosted in honor of Columbia community member Janice Plowman, who dedicated her life to education and the arts, is hosted in two chamber music categories: Piano & Strings and Brass, Woodwinds & Percussion.
SUNDAY, MARCH 26, 2:30PM (ET) | FINAL ROUND 
2.35PM (ET) - Zelter String Quartet
3.05PM (ET) - Kodachrome Saxophone Quartet
3.35PM (ET) - Menil PIano Trio
4.20PM (ET) - Amo Brass Quintet
4.50PM (ET) - Estella String Quartet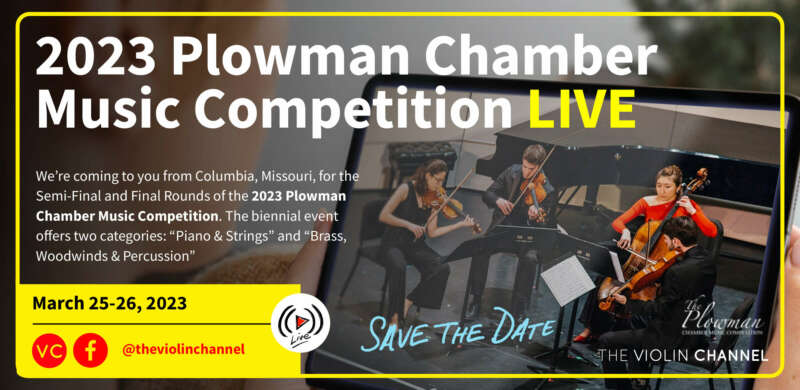 "I founded the Plowman Competition in 2005 — as a collaborative project with the Missouri Symphony Society," Competition Artistic Director Ayako Tsuruta told The Violin Channel. "Our mission was, and still is, to show our Mid-Missouri area audiences the exceptional talents of young chamber musicians across the nation, and in turn, share our enthusiastic and well-educated audiences with the next generation of performers," she said.
With a Grand Prize of US $5000, the competition also offers a Odyssey Chamber Music Series Award, worth US $2000, and an opportunity to perform in the 2024 Odyssey Chamber Music Series, in Columbia, Missouri.
This year's jury comprises pianist Lucille Chung, cellist Amit Peled, and horn player Jeff Scott.
Each ensemble will prepare two complete works of distinctly contrasting character and time periods for the competition. For the Semi-Final Round, up to 20 minutes of the repertoire will be called upon, at the request of the jury.
"If I were judging, I would be looking for an ensemble that has both charisma and professional polish, and most importantly, the desire and passion to perform chamber music," Ayako Tsuruta said.
SATURDAY, MARCH 25, 12:30PM (ET) | SEMI-FINAL ROUND
12:30PM (ET) - Rasa String Quartet
12:50PM (ET) - Corvus Saxophone Quartet
1:10PM (ET) - Amabile Piano Trio 
1:40PM (ET) - Atlas Saxophone Quartet
2:00PM (ET) - Zelter String Quartet
2:20PM (ET) - Kodachrome Saxophone Quartet
2:40PM (ET) - Cersis String Quartet
SATURDAY, MARCH 25, 5:05PM (ET) | SEMI-FINAL ROUND
5:05PM (ET) - Trio Blank Slate (Piano-Flute-Bassoon)
5:25PM (ET) - Menil Piano Trio
5:45PM (ET) - Plaza Winds Woodwind Quintet
6:15PM (ET) - Eunoia String Quartet
6:35PM (ET) - Onde Sonora Saxophone Quartet
6:55PM (ET) - Little Trio (Piano-Clarinet-Cello)
7:25PM (ET)  - Amo Brass Quintet
7:45PM (ET) - Estella String Quartet
SUNDAY, MARCH 26, 2:30PM (ET) | FINAL ROUND 
2.35PM (ET) - Zelter String Quartet
3.05PM (ET) - Kodachrome Saxophone Quartet
3.35PM (ET) - Menil PIano Trio
4.20PM (ET) - Amo Brass Quintet
4.50PM (ET) - Estella String Quartet