VC LIVE | Classeek Presents Violinist Bilal Alnemr
Tune in March 23 at 6:00PM (ET) to watch 2022/23 Classeek Young Artist, violinist Bilal Alnemr present works by Schumann, Fauré, and Solhi al-Wadi
Aubonne, Switzerland
Thursday March 23rd, 2023 06:00pm
Tune in March 23 at 6:00PM (ET) to watch 2022/23 Classeek Young Artist, violinist Bilal Alnemr present works by Schumann, Fauré, and Solhi al-Wadi
We're coming to you from Aubonne, Switzerland for a series of concerts featuring the Young Artists of Classeek's 2022/23 Ambassador Programme.
Today's concert features Classeek Young Artist, violinist Bilal Alnemr with pianist Giuseppe Mentuccia.
PROGRAM
Schumann | Sonata in A minor, Op. 105
Fauré | Sonata No.1 in A major
Solhi al-Wadi | Violin Sonata No.2
Born in Damascus, Syria in 1996, Bilal is a former 1st prize winner at the Syrian National Violin Competition and the Solo Alwadi Competition and has since given concerts across Indian, Russia, Quatar, Jordan and Lebanon. A graduate of the Paris Conservatoire, where he studied with Roland Daugareil and Olivier Charlier, he is a current member of the Barenboim-Said Academy, in Berlin, working under the guidance of Michael and Daniel Barenboim.
In 2022, Bilal created "Les Rencontres Musicales de Vauvenargues", a musical festival aimed at thanking this Provençal village for having welcomed his family fleeing the war in Syria. He also co-founded UGARIT, a non-profit association aimed at developing cultural exchanges in the field of music, between Syria, France and the rest of the world.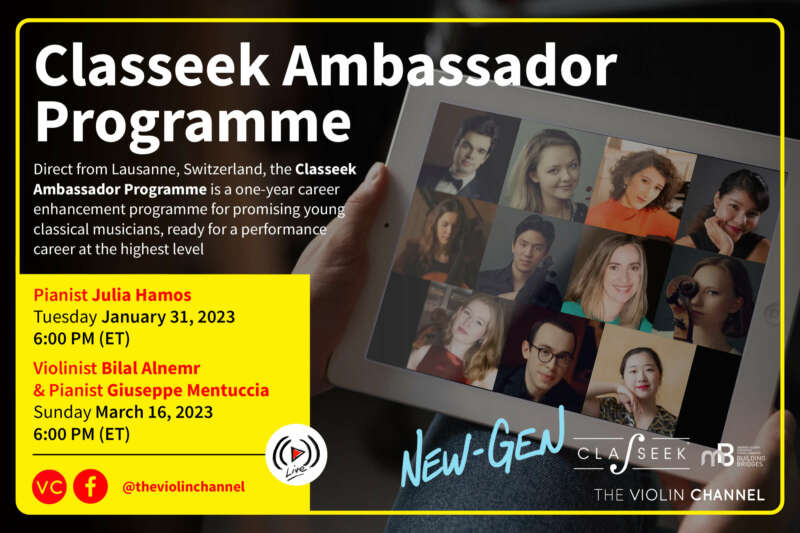 Founded in 2017 in Lausanne, Switzerland, Classeek is an alliance of passion for the classical music world and the desire to provide global technological solutions to artists and musicians.
In 2018, Classeek created the Ambassador Programme to provide a one-year career enhancement program for promising young classical musicians who are ready for a performance career at the highest level.
"Since its inception, I strongly believed talent could shine regardless of location, connections, and/or financial constraints," Classeek's founder Catarina Amon told The Violin Channel. "We're looking for fresh voices and new talents that we have never heard before and source these talents through Classeek."
Open to instrumentalists and composers, the program admits those between the ages of 18 - 30 years. Click to read more about Classeek's application process.