Brentano Quartet Violist Misha Amory Shares His Approach for Better Sound Production
"What is your advice for improving the sound production on a viola?" We threw the question over to acclaimed international violist, Misha Amory for his tips and strategies.
There are so many ways to produce a sound on an instrument, but how does one develop a sound that is rich and powerful, yet contain flexibility and nuance? VC reader Brian wanted to know some key pointers to improving ones sound production on the viola.
Do you have any tips and approaches to develop good sound production on a string instrument? Please let us know in the comments below. We're all keen to learn more from you.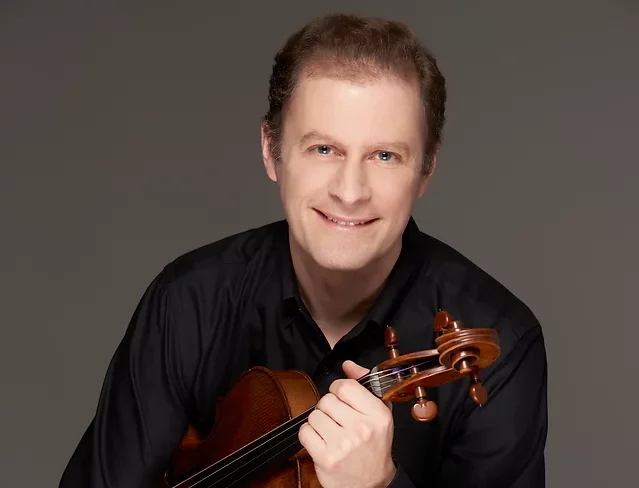 Violist Misha Amory Shares Advice on Better Sound Production
Dear Brian,
Producing a tone that is rich enough, powerful enough or flexible enough is a constant challenge to the string player, not least because it is so central to our ability to express ourselves fully. This is a topic with many sides to it, and is also highly individual to each string player, depending heavily on the behavior of instrument and bow, not to mention the physiognomy of the player, and most importantly the player's way of hearing.  Here we have neither room for a book-length answer nor the luxury of several hours of lessons, but I can offer a few "points of approach" for students wishing to explore how they make their sound.
1. Five lanes, four strings.  This is an artificial, but effective, way to discover what your bow and viola has to offer.  Practice slow 2-octave scales in one position at five different contact points (tasto, near-tasto, middle, near-bridge, and at bridge), keeping careful watch on your bow and using the appropriate bow speed and arm weight to produce the best possible sound result for each contact point.  What does the viola offer at each of these contact points that might stimulate your aural imagination?  Similarly, practice slow one-string, one-octave scales, "meditating" on each tone as you pull it, to acquaint your ear very specifically with the behavior of that pitch on that string, and making it sound as beautiful, focused and golden as possible: do not take it for granted, as your instrument will resonate differently for each frequency.
2. Relationship to the bridge.  We all have been told by our teachers that to have more power, we should play nearer the bridge.  Is that really true, and why does my bow prefer to wander away from the bridge if I don't impose my will otherwise?  The fact is that the string is more resistant to the bow near the bridge, and so the bow will naturally seek a point of less resistance as we ask it to travel.  However, if we just force it back towards the bridge, the result will not be very good: rather than a powerful sound, a brittle, scratchy one is likely.  Instead, imagine a dynamic relationship of the bow to the contact point, rather than a static one: always be "approaching" the bridge, even as the string is pushing your bow away from it.  This attitude of perpetually returning towards the bridge should feel like a deeply coaxing attitude towards the string, rather than a commanding attitude: entering, re-entering, re-entering once more, rather than "parking" the bow at a given contact point.
3. String tension vs. arm tension.  It is, unfortunately, intuitive for us to get tenser in our right arm as we try to make a bigger and more intense sound.  In a sense, the opposite should be true: the only time arm "holding" might be helpful is in the production of the quietest, most suppressed sound, and even then a little goes a long way.  Putting it in terms of contact point, the closer you are to the bridge, the greater the tension in the string, and the more you should be persuading your arm to give up tension, to just lie heavily on the bow, as if asleep.  You are in effect handing the burden of tension over to the string.  To use another counterintuitive image, imagine that the surface of the string where your bow hits it is not a hard, tense one, but something soft, spongy, yielding, especially when near the bridge.  Would you be more likely to sink into a comfy sofa, trustingly with your whole weight, or a hard chair?
4. Every stroke has an initiation.  Always associate the beginning of a bow stroke with an initiation and the release of tension.  Any time a string player is pressing the sound, it's a good bet that tension was not released at the beginning of the stroke.  It might be obvious to everybody that a martelé stroke, or a spiccato, has a clear collé initiation to launch it; less obvious is the need for the same collé initiation in a good détaché, no matter how legato.  Without it, one enters the bow stroke with some arm tension, which only increases with the effort of sustaining, leading to a pressed sound.  The best approach is to make a habit of conceiving every stroke, no matter how sustained, as consisting of an initiation that causes a release of muscle tension, followed by a sound that is breathing and flexible.  If your ear is engaged, the sustaining that you need will still happen.
5. Are you breathing?  Unfortunately, it is natural to hold one's breath when concentrating hard on a goal, whether it is producing a good sound or shaping a phrase exquisitely.  Any yoga instructor, Feldenkrais coach, or physical therapist will urge the benefits of good breathing habits, and they are not just saying this to be pious.  Not only does breathing ensure good circulation and loose joints (not to mention enough oxygen), it also presents the string player with a great analog to the bow's behavior.  It is commonplace that downbow-upbow mimics the exhale-inhale pattern, but that's because it's true; allow your breathing to suggest a basis for the bow's behavior.  Establish the alignment of breathing that works best for you: some players are most helped by exhaling nearly all the way before they start their sound, others prefer to start exhaling more or less simultaneously with the beginning of the sound, so that breath and sound release together.
6. Can you hear it imaginatively?  If you can't vividly imagine the kind of sound (depth, color, richness) that you want to make, it will be nearly impossible to produce it. 
All the best music-making proceeds from the concept outward, and we need a concept for tone just as we need one for a musical character, tempo or phrase shape. 
Can you hear the sound in your head?  How much bass component is there (hum) compared to the highest partials (hiss)?  How does the vibrato affect the sound image - is it around the pitch or more within it, and is it interacting meaningfully with how the bow pulls the tone, so that the two are well-integrated?  In the levels of your "sound room", has the bow penetrated to the lowest (richest) level, or do you prefer it to be at more of a mid-level for this particular sound - or floating near the ceiling?
-Misha
Do you have a burning question for one of the pros? Simply email: [email protected]
A graduate of Yale University and the Juilliard School, Misha Amory is a former 1st prize winner at the Naumburg Competition — and is a founding member of the acclaimed Brentano String Quartet. He has performed with the Chamber Music Society of Lincoln Center and the Marlboro Festival - and serves on faculty at the Juilliard School and the Curtis Institute of Music.