Composer Unsuk Chin and Contemporary Art Music
With a catalogue of over 50 works, the South-Korean composer has seen her music performed by noted orchestras around the world  
Born in 1961 in Seoul, South Korea, Unsuk Chin studied with composers Sukhi Kang and György Ligeti, and has lived in Germany since 1985. The creator of rich and vibrant sound-worlds, she is considered a significant figure in the contemporary art music scene.
With an output of both electronic and acoustic scores, Chin's works have been performed by orchestras including the Bavarian State Opera, Berlin Philharmonic, BBC Symphony, Chicago Symphony, Los Angeles Philharmonic, London Philharmonic, New York Philharmonic, Radio France Philharmonic, Montreal Symphony, and Deutsches Symphonie-Orchester Berlin, among others.
Contemporary music ensembles that have programmed her works include Ensemble Intercontemporain, London Sinfonietta, Klangforum Wien, Asko|Schönberg Ensemble, Ensemble Modern, Arditti Quartet, and Kronos Quartet. 
Conductors Kent Nagano, Esa-Pekka Salonen, Gustavo Dudamel, Simon Rattle, Markus Stenz, Peter Eötvös, David Robertson, Myung-Whun Chung, George Benjamin, Hannu Lintu, plus violinists Christian Tetzlaff, Viviane Hagner, and Renaud Capuçon, have all championed Chin's compositions.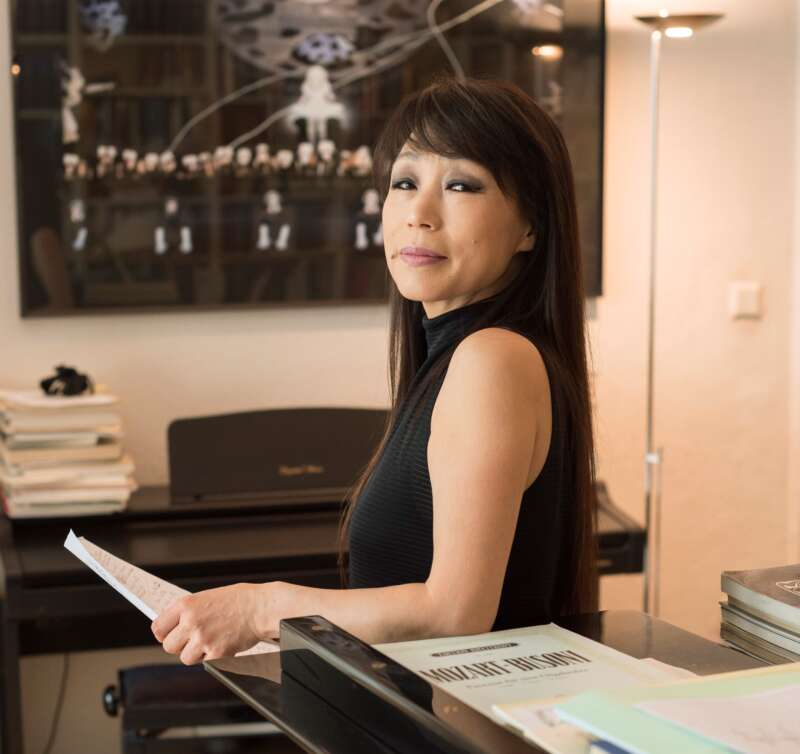 Chin, 61, grew up in Seoul as the daughter of a Presbyterian minister and began learning music from an early age. While her father taught her the basics of piano, formal tuition for instrumental music was beyond their means financially. 
Despite this, Chin continued to hone her passion for music, setting pencil to paper to write music instead. "South Korea [in the 1960s] was one of the poorest countries in the world and there was a military dictatorship in power," she told The Age in 2018. "It was also a highly patriarchal society; women were allowed to enter education but not in order to become independent…But I was always a stubborn person, determined to follow my own dreams."
Twice refused entry to Seoul National University — which at the time, was seen as an "existential disaster" — Chin was accepted on her third try. Later on, she applied to study abroad as her home country lacked opportunities for composers like herself. 
In 1985, she received the Gaudeamus Foundation grant to study in Germany with Hungarian composer Ligeti — a key figure in 20th-century music. However, while studying there, Chin felt cultural barriers.
"For a female Asian composer, there were some very strong glass ceilings back then — at least in Germany," Chin continued. "I overcame those obstacles by trying to ignore them, concentrating on my work and constantly trying to improve its quality."
In a recent interview with San Francisco Symphony editorial director, Chin revealed a breakthrough that occurred in her mid-20s. "When I was younger, I devoured all of the Western avant-garde music, as if with a time lapse, and wrote prize-winning works that were indebted to different modernist idols. 
"[When I studied with Ligeti], he demanded that I find my own voice; it was a time when he had himself renounced the avant-garde to look…beyond traditionalism, modernism, and post-modernism," she added. "As a result, I couldn't compose for three years."
In 2004, she received the prestigious Grawemeyer Award for Music Composition for her first Violin Concerto, written in 2001, which brought her to public attention. 
UNSUK CHIN | VIOLIN CONCERTO NO. 1 | VIVIANE HAGNER | NEIL THOMSON | SÃO PAULO SYMPHONY ORCHESTRA | 2017 
Chin has written over 50 works for vocals, tape, chamber, quartet, and orchestra, as well as operas and concertos. They have been released on record labels such as Deutsche Grammophon, Kairos, and Analekta, and are published exclusively by Boosey & Hawkes. A full list of her works can be found here.
Possessing a unique musical style, her first opera, "Alice in Wonderland," written between 2004 and 2007, showcases Chin's use of references within each other to create rich layers for ironic effect, emulating Baroque styles to those of Bizet and Schoenberg. 
UNSUK CHIN | ALICE IN WONDERLAND | "THE MAD TEA PARTY" | MYUNG WHUN CHUNG | SEOUL PHILHARMONIC ORCHESTRA | 2016
Her Clarinet Concerto written for Finnish clarinetist Kari Kriikku and Violin Concerto No. 2 for Leonidas Kavakos are among her solo works with an orchestra that have been performed to great acclaim. 
"I'm attracted by virtuosity," Chin told the New York Times on writing for solo instruments. "This enthusiasm and virtuosity of a player trying to go beyond [their] boundaries: I like that," she explained. "It's a situation that I experience all the time as a composer: pushing the limits of your possibilities, not knowing whether you can do it — and then somehow succeeding. I ask every bit as much from a soloist."
UNSUK CHIN | VIOLIN CONCERTO NO. 2 "SHARDS OF SILENCE" | LEONIDAS KAVAKOS | SIR SIMON RATTLE | LONDON SYMPHONY ORCHESTRA | 2021
Among Chin's numerous accolades include the Arnold Schoenberg Prize, Prince Pierre Foundation Music Award, Ho-Am Prize, Wihuri Sibelius Prize, Hamburg Bach Prize, Kravis Prize, and the Leonie Sonning Music Prize.
Additionally, she is the Artistic Director of South Korea's Tongyeong International Festival and has served in the same role with Taiwan's Weiwuying International Music Festival since this year.
A mini-documentary on Chin can be watched below.