VC INTERVIEW | Lora Tchekoratova, Salon de Virtuosi's Artistic Director
The Violin Channel will stream this year's Salon de Virtuosi gala concert on Wednesday 14th October at 7.30pm, live on Facebook
The Violin Channel this week caught up with Salon de Virtuosi's Artistic Director, Lora Tchekoratova, to get a better understanding of the unique New York City concert series' mission and upcoming plans.
Can you tell us about the 'Salon de Virtuosi' and its history? 
The Salon de Virtuosi is a non-profit organization, founded in 1989 by the noted pianist Charlotte White, who directed it for 28 seasons. I joined as Artistic Director the year after Charlotte passed away (at age 103!) and was thrilled to have the opportunity to work closely with her daughter, Erika White, the President of the Salon, and our very dedicated Board of Directors.
Our organization has developed an impressive track record of the discovery of extraordinarily gifted emerging classical musicians from around the world. We have provided vital support for developing professional performers who have demonstrated their passion and commitment to bringing the world of classical music to tomorrow's audiences.
Our mission is to support, encourage, and promote excellence in classical music through our programs and initiatives, which include concerts in intimate "salon" settings, community and educational outreach concerts, and many networking opportunities for our young musicians.
The Salon is one of New York's most generous supporters of young musical talent. Since the Grants Program's inauguration in 1995, the Salon has awarded more than $580,000 towards career and scholarship grants. Performances for the Salon have also led to many other career development opportunities for these young artists.
Among the list of emerging artists the Salon has originally presented are the world-renowned classical musicians Gil Shaham, Lang Lang, Helen Huang, Wendy Warner, the St. Lawrence String Quartet, Alessio Bax, Paul Huang, and many others.
Can you tell us more about the young artists who will be performing at this year's gala concert?
This year we are presenting grants to nine artists –  more than ever before! All of them are gems, very different from one another, and we are confident they will all become leaders in the classical music world.
We will feature three very young girls: the sisters Hina and Fiona Khuong-Huu, violin, aged 15 and 13, and flutist Sooah Jeon, who is 12. We were tremendously impressed not only with their talent but also with their maturity and professionalism. They have a great future ahead!
Our other winners are in their twenties, and are rapidly establishing themselves in classical circles around the world. We are featuring violinists Nathan Meltzer and Moné Hattori, cellist Alexander Hersh and pianists Rémi Geniet and Albert Cano Smit.
Finally, we are ending the evening with a unique performance, very much in keeping with the Salon's cross-cultural mission: American jazz instrumentalist and composer Zac Zinger, who will premiere an original work for the Japanese bamboo flute shakuhachi and string ensemble.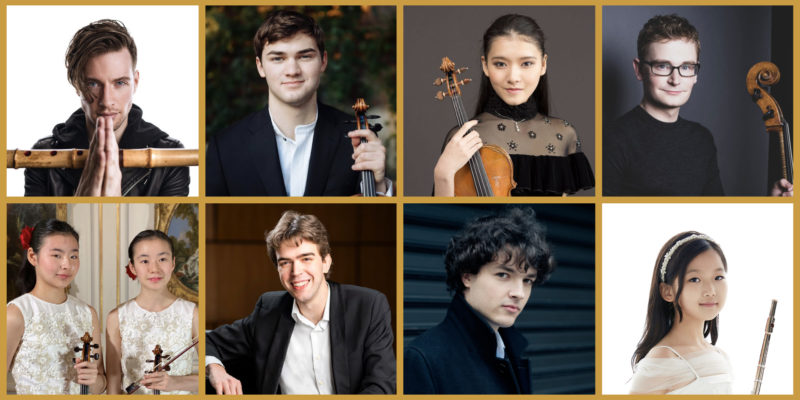 How do you go about selecting your artists? What qualities are you looking for?
Each season the Salon presents a series of concerts featuring outstanding young artists from the United States and worldwide, in a setting that encourages direct communication between the artists and the audience. We are looking for those musicians who have that very special spark and potential to become our future "greats."
Our alumni are very involved in recommending musicians to us, as are many leading classical music teachers and conservatories. We also do thorough research on developments in the field and keep an eye on young talents.   
What initiatives have you put into place this year to adjust to the current COVID situation?
Like many arts organizations, we have had to make significant adjustments to the way we present concerts and support our musicians during the current crisis. Luckily, we have been busier than ever.
After the pandemic hit in March, we moved our concerts online thanks to a partnership with the Violin Channel and generous support from the Alphadyne Foundation.
In addition, we established several new initiatives to provide opportunities for our artists and alumni to perform. For example, we started an online Alumni Spotlight Series, an online Educational Concert Series, and enlisted our alumni to record videos for patients and medical staff at Mt. Sinai Hospital and Northwell Health.
We also established an Alumni Relief Fund for those artists who have lost engagements and income due to closures and cancelations. We are currently also working on establishing a fund for commissioning new works and supporting our artists with additional online concert opportunities.
How important is art in time of COVID?
We believe that the arts are more important now than ever. Not only do they provide much-needed entertainment and a place of sanctuary during difficult times, but the arts and music in particular also have healing power.
I can't imagine getting through the horrors of the current situation without being able to play music, read, visual arts, and films.
Like nature and science, the arts have the incredible capability to give us hope, connect us with people, and show us the finest achievements of humanity. Our job here on this planet is to leave something of value behind for future generations, and there is nothing more significant and magnificent than art.
What are your goals and hopes for the future of the Salon de Virtuosi?
Our goals are to continue supporting our artists and to keep presenting unique programs to our members, friends, and the classical music community at large in whatever shape and form we can.
We are currently planning to support our next group of musicians by providing them with opportunities to perform and be seen and heard by music lovers through the recording of high-quality artistic videos, which we will then share with the public on The Violin Channel.
Upcoming concerts include collaborations with the Czech Consulate in New York and our big Beethoven Birthday Bash on December 17 to kick off the Holidays. We have many more exciting young artists lined up for late winter and spring. Of course, we look forward to returning to live concerts whenever that becomes possible.
Where can we watch the gala concert?
You can watch the concert live on the Violin Channel as well on Salon's YouTube Channel. We want to invite everyone to also follow us on Instagram and Facebook, where we will be posting our current plans.